PetroChina, Utilities Stand to Gain From Russia Gas Deal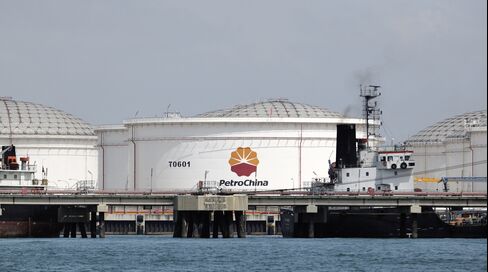 PetroChina Co., the country's biggest oil and gas producer, and the nation's utilities stand to win from Russia's $400 billion deal to supply gas to China, which will will provide the fuel at a price lower than expected.
"The deal is an economic game changer as PetroChina lands an attractive gas deal at a price that carries a 10 percent discount to what EU countries are currently paying, and a 40 percent discount to current LNG prices," said Gordon Kwan, head of oil and gas research at Nomura International Hong Kong Ltd.
China National Petroleum Corp., PetroChina's state-owned parent, and Russia's OAO Gazprom yesterday signed the agreement in Shanghai to supply 38 billion cubic meters of gas annually over 30 years. PetroChina runs most of CNPC's pipeline, refining and marketing businesses.
While precise commercial terms weren't disclosed, Oleg Maximov, an analyst at Sberbank CIB, said the outline provided by Gazprom suggests a price of $350 to $380 per 1,000 cubic meters.
"This could potentially lift PetroChina's earnings per share estimate by about 10 percent, once gas sales start in 2018 or 2019," Nomura's Kwan said.
China-based natural gas distributors such as China Gas Holdings Ltd. and Beijing Enterprises Holdings Ltd. also stand to gain as their profits are linked most closely to gas sales.
Stocks Gain
PetroChina rose 1.8 percent to HK$9.47 in Hong Kong, compared with a 0.5 percent gain in the city's benchmark Hang Seng Index. China Gas jumped 6 percent to HK$13.08 and Beijing Enterprises gained 7 percent to HK$70, the most since June 2010.
China Gas, which supplies natural gas to 208 cities in Asia's biggest economy, has gained 75 percent in the past year after air pollution in major centers including Beijing and Tianjin exceeded hazardous levels, prompting the government to take measures to curb the burning of coal and encourage gas use.
China Gas may sell as much as 40 billion cubic meters of natural gas in 2020 from an estimated 8 billion cubic meters this year, Chief Financial Officer Eric Leung said in November.
Fitch Ratings called the deal a medium-term positive for China's gas sector, while Bank of America Merrill Lynch raised China Gas to buy from neutral, saying it will improve the company's sales after northeastern China begins to receive the new supply from 2018. It raised China Gas' target price to HK$14.50 from HK$13.50.
Deal Positive
UOB Kay Hian Ltd. raised its recommendation on Beijing Enterprises to buy from hold with a target price of HK$80.
"The gas deal is positive across the board for natural gas distributors in China, as the increased supplies and relatively modest import prices will bring every player extra earnings down the road," said Shi Yan, a UOB analyst in Shanghai.
A steady source of Russian gas will help China meet growing demand at a time when it's struggling to exploit its own natural gas reserves, according to a note from Morena Skalamera, a research fellow at Harvard Kennedy School's Belfer Center for Science and International Affairs.
"A reduction of China's heavy dependence on coal through affordable gas expansion will be a critical step in curbing the country's pollution and tackling global climate change," Skalamera said in the note.
Coal Cap
China plans to increase natural gas consumption to 9 percent of its total by 2017 and keep coal consumption below 65 percent, according to a statement from China's National Development and Reform Commission this month. China's natural gas consumption amounted to 5.2 percent of total energy consumption in 2012.
The Russian supply will be sufficient to meet almost a quarter of China's current consumption and about 10 percent of estimated demand by 2020, said Nomura's Kwan.
That leaves room for other suppliers, said Peter Coleman, chief executive officer of Woodside Petroleum Ltd., operator of the Pluto and North West Shelf LNG projects in Western Australia. "The Chinese market is very strong, probably stronger than experts say," he said.
The gas deal will allow Russia to build a liquefied natural gas terminal in Vladivostok to compete with future U.S. LNG supplies to Asia. As such, it may provide gas importers and utilities in Japan, South Korea and Taiwan the leverage to negotiate better prices, Nomura's Kwan said.
Lower Prices
The deal could push spot prices lower when it enters the market in 2020, said Gavin Thompson, Tokyo-based head of gas and power research for Wood Mackenzie.
"For Korean and Japanese utilities, we think that means softer spot prices," Thompson said.
The deal could force Japan and Korea to begin negotiating deals for around 2025, when their contracted supplies will have tightened, he said. Since China is now largely covered for that period, it won't be the principal investor in new projects, leaving the other north Asian nations playing that role to secure their own supplies.
Yesterday's deal was struck after more than a decade of talks between China and Gazprom, Russia's largest company with a market value of 3.47 trillion rubles ($101 billion). Selling gas to China will boost tax revenue for Russia, where the government gets about 50 percent of its income from oil and gas.
Before it's here, it's on the Bloomberg Terminal.
LEARN MORE