A Feeding Frenzy for London Homes Triggers Talk of a Bubble
Low rates and short supply lead to bidding wars and price records
Katy Barnes bought her home a year ago to avoid rising rents. Holly Martin purchased hers in October 2012 as an investment. Now they both regularly check a real estate website where they watch the value of their properties rising. Kay Durrant used the increased value of the home she's owned for 30 years to pay bills by refinancing. CPC Group sold a penthouse appraised at almost $300 million in its One Hyde Park complex.
They're all part of London's frenzied property market, where prices rose 17.7 percent in the 12 months through February, according to the Office for National Statistics, and a typical home now sells for £458,000 ($772,000). There are bidding wars for patches of grass, parking spaces, garages, and sprawling mansions. "There is a fixation with housing, house prices, and the housing market," says Mark Clare, chief executive officer of homebuilder Barratt Developments. "You've got six years of demand that's coming back."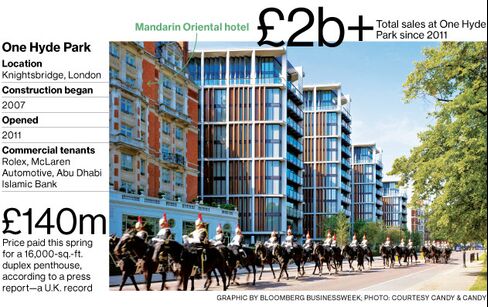 Burgeoning demand and a lack of supply, near-record-low mortgage rates, policies aimed at stoking growth, and a cultural obsession with property are among the factors feeding the boom. A 2,200-square-foot parcel in Chelsea sold for £84,000, even though it didn't have approval for development. Six rundown garages without development approvals in nearby Parsons Green sold for 10 times the original estimated price of £70,000 in April. Real estate firm Savills estimated in January that London's 10 richest boroughs are "worth 9 percent more than Scotland, Wales, and Northern Ireland combined."
Barnes bought a home in Tooting in southwest London in April 2013 because her mortgage payments would be about the same as the rent she'd been paying about 2.5 miles away in Clapham. "I was quite lucky to buy when I did," says Barnes, a research analyst at an advertising agency, who estimates her home would sell for at least 14 percent more today. "I bought a two-bedroom flat, and I think I would struggle to buy a one-bedroom flat for the price I paid" now. Martin, a lawyer with PricewaterhouseCoopers Legal, bought a two-bedroom basement apartment with a backyard in northeast London's Wanstead neighborhood with her boyfriend in October 2012. "Properties were flying off the shelves," she says. "We had to move pretty quickly."
Others who already own are drawing on rising values to unlock cash. The amount withdrawn through refinancing has increased 36 percent in two years, according to the trade group Equity Release Council. Durrant got £90,000 by refinancing her mortgage to help manage rising bills. "I didn't have enough to run the house," Durrant says of the three-bedroom Victorian she bought decades ago. "I could have downsized or moved away, but equity release was the most convenient option."
Sales at One Hyde Park have totaled more than £2 billion since the apartment complex in Knightsbridge opened in 2011, according to CPC. On May 2 the company announced it had sold a 16,000-sq.-ft. duplex penthouse that had been appraised at £160 million to £175 million. It did not disclose a price or buyer. A press report put the sale price at £140 million, which would top the previous record for a U.K. residential sale, set at One Hyde Park in 2011, of £136 million.
Mayor Boris Johnson says London's housing shortage is his biggest challenge. He set a target of delivering 42,000 homes a year during the next decade. Homebuilding in London "went off a cliff" six years ago, he says. "It's taken an awful long time to get the confidence back."
Pressure is mounting to cool the market. The biggest risks "to financial stability, and therefore to the durability of the expansion," Bank of England Governor Mark Carney said in a televised interview on May 18, "center in the housing market, and that's why we are focused on that." Some desperate buyers are neglecting to weigh the costs associated with homeownership, the Money Advice Service said in a February report. Three-quarters of first-time buyers in the U.K. spent more than their budget, and some ended up in financial trouble after day-to-day maintenance and bills were higher than expected, it said. "The London market is looking particularly frothy," says Martin Beck, an adviser to EY Item Club, an economic forecaster. "The onus remains firmly on the Bank of England to ensure that the market does not enter bubble territory."
Before it's here, it's on the Bloomberg Terminal.
LEARN MORE