Thai Parties, Military Fail to Resolve Crisis at Meeting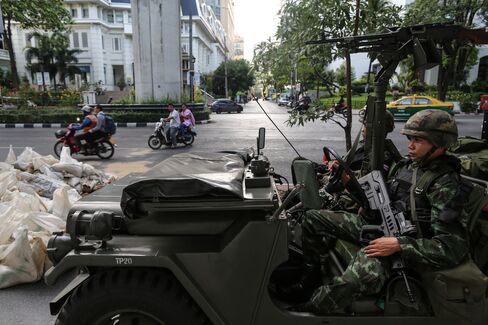 Thai military and political leaders were scheduled to meet again this afternoon to discuss possible resolutions to the nation's six-month governance crisis following the imposition of martial law.
The gathering will follow one yesterday at which Army Chief Prayuth Chan-Ocha summoned about 70 people from seven groups to a military building a day after he declared martial law, sent troops into Bangkok and clamped down on the media. Deputy army spokesman Winthai Suvaree said yesterday all sides listened to each other's proposals and agreed to reconvene.
"With martial law, they were more willing to negotiate," Winthai said at a media briefing after the meeting. "We hope to achieve a solution as soon as possible. We want to return peace and happiness to all Thais."
Prayuth has said his declaration of martial law was not a coup and was meant to end six months of sometimes violent political turmoil that has led to an annulled election and the ousting of an elected prime minister. Still, he has pushed forward with exercising his authority under a rarely used 100-year-old law to threaten prosecution against media that spread divisive comments and the shuttering of social media sites that don't censor "provocative" content.
After falling 1.1 percent on May 20, the benchmark SET Index of stocks is now headed for its second daily advance, rising 0.6 percent to 1,411.54 as of 12 p.m. in Bangkok. The baht strengthened 0.2 percent to 32.414 per dollar, matching yesterday's gain, according to data compiled by Bloomberg.
History of Coups
The Thai military has carried out almost a dozen coups since the end of direct rule by kings in 1932, with three governments overthrown since 2006 by the army or judicial action. Another putsch would risk international sanctions and may extend almost a decade of unrest that has sapped growth in Southeast Asia's second-largest economy.
Anti-government protesters are demanding an unelected council run the country to wipe out the influence of former Prime Minister Thaksin Shinawatra and his sister, Yingluck Shinawatra, overthrown this month, whose parties have won the last five elections. Government supporters, also protesting in Bangkok, have vowed to fight any such move.
Yingluck dissolved parliament and called fresh elections in December in a bid to end the protests, which began in opposition to an amnesty bill that would have allowed Thaksin to return to Thailand. Thaksin was ousted in a 2006 coup and fled abroad to avoid a jail term for corruption handed down by a military-appointed court.
Election Dates
Caretaker Prime Minister Niwattumrong Boonsongpaisan said May 20 he is seeking backing from the nation's Election Commission to hold a vote as soon as August, after a February poll was annulled after being disrupted by protesters. That proposal will be discussed with the army today, Election Commission Chairman Supachai Somcharoen said.
The commission made two proposals of its own, Supachai said. An election might be held in five months, after preparations are made to guarantee the vote is free and fair, or in one-to-two years. Under the long-term plan, an interim solution would need to be found to ensure the country had a legal government, Commissioner Somchai Srisutthiyakorn said.
The imposition of martial law nationwide is not a coup, Prayuth said in announcing the order on local television early on May 20, and he pledged that military control would be short. The army is seeking to restore order and asks political groups to halt their protests, he said. There was an increased presence of soldiers and military vehicles in Bangkok on May 20, while life in the capital appeared to return to normal yesterday.
'Military Boot'
Gun and grenade attacks and protest clashes with police have killed 28 people and wounded hundreds since the anti-government protest began in late October.
"Unrest will be reduced under the military boot, but it does not address fundamental problems," said Kevin Hewison, director of the Asia Research Centre at Murdoch University in Perth. "Strikingly, the military has invoked exactly the same excuse for intervention as in 2006: to prevent a clash between opposing sides. But why now?"
The army reiterated an order late yesterday for protesters to remain in designated demonstration zones to avoid clashes, and said security officials in provinces outside Bangkok must prevent protests in their areas or responsibility.
Political polarization has escalated in the past decade over the role of Thaksin and his allies as their growing support among the rural poor threatens the power of the urban elite and Thai royalists. The protesters accuse Thaksin of buying the support of voters with populist policies they say are riddled with corruption.
Economic Damage
The declaration of martial law came one day after the government announced that the economy contracted an annual 0.6 percent in the first quarter, as the crisis hurt tourism and weighed on exports. Economists surveyed by Bloomberg had predicted an expansion.
Thailand's last quarter-on-quarter recession was in 2009, after anti-government protesters shut down Bangkok's main international airport for more than a week at the height of the global financial meltdown.
The country's credit profile remains relatively strong, given its healthy external balance and high foreign-exchange reserves, Moody's Investors Service said yesterday. Standard & Poor's today reaffirmed its long-term BBB+ credit rating for Thailand, which it said is supported by the country's modest government debt and track record of effective monetary policy.
'Bang Heads'
"If we have some clarity on an electoral timetable, and if we have some agreement from the main protagonists on how to move forward, then the rebound will be very strong as the fundamentals here are still very good, Thitinan Pongsudhirak, director of the Institute of Security and International Studies at Chulalongkorn University, said yesterday in an interview with Bloomberg Television.
Solving the crisis quickly will require the army to ''bang heads and bring the protagonists to the table,'' Thitinan said. ''If it has a plan for Thailand, they better implement that plan very quickly, otherwise things could descend into political darkness and the likelihood for violence could grow.''