Putin's China Gas Coup Risks Lower Returns for Gazprom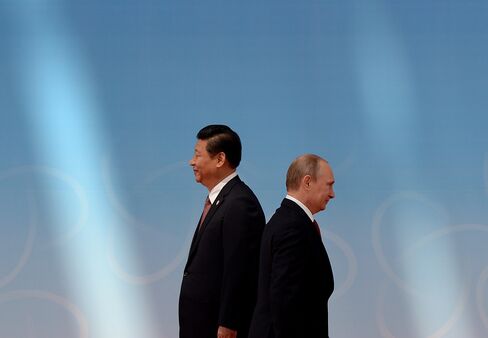 What's good for Russia isn't necessarily good for the country's largest company.
President Vladimir Putin hailed an "epochal event" yesterday after state-run natural gas exporter OAO Gazprom signed a $400 billion deal to supply fuel to China for 30 years. The agreement was a coup for Putin, who showed he can build ties with Asia's leading economy at a time when the crisis in Ukraine is souring relations with the U.S. and Europe.
Whether it's a boost for Gazprom is less clear. The gas-sales agreement probably doesn't justify the expense of building a pipeline to China and developing giant fields in eastern Siberia, analysts from Renaissance Capital said. The project is likely to divert cash from dividends toward Gazprom's already giant capital expenditure budget.
"Capex on the pipeline alone will be value destructive," Ildar Davletshin, an analyst at Renaissance Capital in Moscow, said in a note for investors just after the deal was announced. "New capex will likely cause free cash flow to turn negative in the medium term, limiting Gazprom's ability to increase dividends."
The deal was struck after more than a decade of talks between China and Gazprom, Russia's largest company with a current market value of 3.47 trillion rubles ($100 billion). Selling gas to China will boost tax revenue for Russia, where the government gets about 50 percent of its income from the oil and gas industry.
Pipeline Network
While the precise commercial terms of the contract Gazprom signed with China National Petroleum Corp. in Shanghai weren't published, Oleg Maximov, an analyst at Sberbank CIB, said the outline provided by Gazprom suggested a price of $350 to $380 per 1,000 cubic meters.
That's slightly less than the company gets from sales to the European Union, where a Soviet-era network of pipelines and fields in western Siberia developed over the past 40 years means costs are lower.
"Whether it is $350 or $380 is completely unimportant," Maximov said in an e-mail. "The price implies a very sub-prime return for Gazprom."
Gazprom spokesman Sergei Kupriyanov declined to comment on the price the company would get for gas or the agreement's impact on profit. The Russian government owns 50 percent of Gazprom.
Some analysts were more optimistic that the China deal was positive for Gazprom, providing an opportunity to add to the company's customers and increase sales, which amounted to $165 billion last year.
Capital Expenditure
"Signing the deal is a long-run positive for Gazprom, even though the exact pricing details have not been released," analysts at Sanford C. Bernstein & Co. said. "It buys diversification."
Gazprom capital expenditure totaled $43.9 billion last year, trailing only Brazil's Petroleo Brasileiro SA and CNPC among the world's biggest oil and gas companies, according to data compiled by Bloomberg. Developing the pipeline to China and the fields needed to supply it will cost $55 billion before the gas starts flowing in four to six years, Putin said yesterday.
How much of this burden Gazprom has to bear will depend on whether China makes advance payments for the gas to help finance construction costs, Russian investment bank VTB Capital said.
"Prepayment would be helpful," VTB analysts said in a note yesterday. "China might provide Gazprom with prepayment of $25 billion."
Muted Reaction
Gazprom shares, which rallied in the run-up to Putin's China visit, dropped today. The stock fell 1.2 percent to close at 144.78 rubles in Moscow today.
Gazprom has a current indicated yield of almost 5 percent. It's estimated by Bloomberg Dividend Forecasting to increase its payment to 8 rubles a share from 2014 profit from 7.2 rubles on last year's earnings.
"In anticipation of rising capex, negative free cash flow, heavy borrowing and poor shareholder returns, we advise taking the chips off the table," said Timur Salikhov, senior analyst at BCS Financial Group.
Gazprom Chief Executive Officer Alexey Miller signed the deal with Zhou Jiping, chairman of CNPC. The agreement is for 38 billion cubic meters of gas annually over 30 years, Miller said. While he declined to give a price, he said the total value would be about $400 billion.
Before it's here, it's on the Bloomberg Terminal.
LEARN MORE