Moody's Turns Negative on China Property Developers' Outlook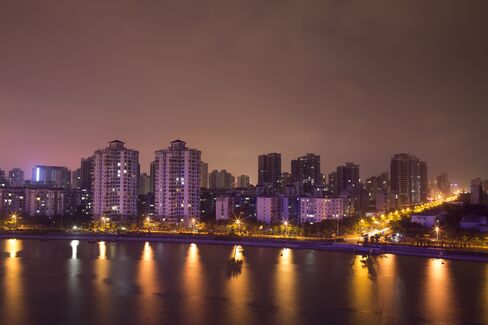 Moody's Investors Service revised its credit outlook for Chinese developers to negative from stable, citing a slowdown in home sales growth as liquidity weakens and inventories rise in the coming 12 months.
The outlook change is the first by the credit rating provider on China's property market since November 2012, it said in a statement today. Home sales growth will decelerate to 5 percent at most on a year-on-year basis over the next year, "materially lower" than 27 percent growth last year, it said.
"The liquidity of developers with relatively weak credit quality will be more vulnerable in 2014, and their refinancing risk will increase as banks became more selective in credit extension following recent defaults in China," Franco Leung, a Hong Kong-based analyst at Moody's, said in the statement.
After four years of government restrictions to cool the housing market, home sales and property construction are sliding and have become a drag on the country's economy, which recorded its slowest growth in six quarters in the first three months of the year. The pressure on Chinese developers was underscored by the collapse of a developer in a city south of Shanghai in March.
Developers with high inventory, weak sales ability and limited access funding will be more vulnerable, it said.
Credit Profiles
Developers including Glorious Property Holdings Ltd., controlled by billionaire Zhang Zhirong, Coastal Greenland Ltd. and Renhe Commercial Holdings Co., which develops underground shopping centers, will probably see further deterioration in credit profiles, Moody's said.
The central bank last week called on the biggest lenders to accelerate the granting of mortgages, indicating the government has policy levers available to support the industry when needed, Moody's said.
China's new-home prices rose in April in the fewest cities in a year and a half, while home sales fell 18 percent from March, according to the National Bureau of Statistics.
Moody's would consider changing the industry outlook back to stable if the nation's home sales improve, inventories shrink and developers have stable access to bank lending over the coming six to 12 months, it said.
— With assistance by Bonnie Cao, and Michelle Yun
Before it's here, it's on the Bloomberg Terminal.
LEARN MORE