Modi Reaches Out to India's Neighbors in Renewed Peace Push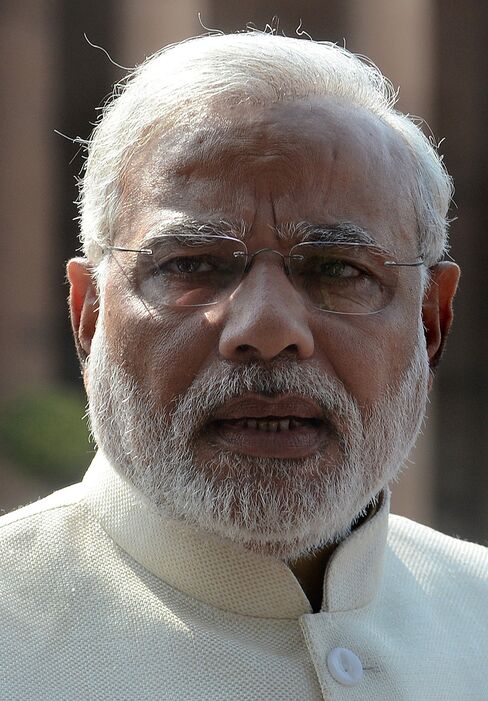 Fresh from winning a mandate cutting across social divisions that have hindered India for decades, Prime Minister-designate Narendra Modi is now seeking to bridge differences throughout his region.
In an unprecedented move, Modi yesterday invited Pakistani Prime Minister Nawaz Sharif and leaders of six other nations in the South Asian Association for Regional Cooperation to attend his oath-taking ceremony on May 26. The overture signals Modi's intent to prioritize economic ties close to home before focusing on ties with the U.S., China, Russia and Japan.
"The neighborhood will get a lot of attention," Hardeep Singh Puri, 62, India's former United Nations envoy and a member of Modi's Bharatiya Janata Party, said in an interview yesterday. "We have relationships with each of the countries which are crying out for attention and need repair."
Border disputes, terrorist attacks and conflicts dating back decades have hampered ties in South Asia, which accounted for 23 percent of the world's population but just 2 percent of global trade in 2009, according to India's central bank. Modi said during the election campaign that he would take a more strident position in dealing with neighboring countries than outgoing Prime Minister Manmohan Singh.
"Modi is sending a clear message that he has the political will to solve even the region's most complicated problems," said N. Sathiyamoorthy, a political analyst at the Observer Research Foundation in Chennai. "It shows that the politician Modi is different than the prime minister Modi."
Civil Wars, Insurgencies
Sharif will likely accept Modi's invitation to attend the ceremony, Times Now television channel reported, citing people it didn't identify. Tasnim Aslam, a spokeswoman for Pakistan's foreign ministry, said in a text message that Sharif's attendance is "not yet" confirmed.
Foreign Secretary Sujatha Singh invited all of Modi's SAARC counterparts, including the leaders of Pakistan, Afghanistan, Bangladesh, Bhutan, Maldives, Nepal and Sri Lanka to the ceremony, Syed Akbaruddin, spokesman for India's foreign ministry, said in a post yesterday.
Across South Asia countries have been plagued by civil wars and insurgencies. Sri Lanka suffered a 26-year civil war that ended in 2009, Nepal was disrupted by a Maoist uprising that lasted for a decade until 2006 and Afghanistan continues to suffer from Taliban attacks on the government.
Thousands Killed
Pakistan has seen 40,000 people killed in a Taliban insurgency, and has also fought three wars with India since 1947. Since 1988, more than 14,000 Indian civilians and 6,000 security personnel have been killed in violence between the nuclear-armed neighbors in the disputed region of Kashmir, according to the South Asia Terrorism Portal, which doesn't keep track of Pakistani casualties.
India's economic growth tumbled from 2010 to 2013 -- to 4.3 percent from 10.2 percent -- along with Afghanistan, Bhutan and the Maldives, according to International Monetary Fund data. Paksitan's growth rate increased to 3.63 percent from 2.58 percent, while Bangladesh's has fallen to 5.7 percent from 6.4 percent, according to the IMF.
Modi called for a halt to all violence with Pakistan in a May 8 interview with Times Now television channel.
"Do you think it is possible to have a discussion amidst the deafening noise of bomb blasts and gunshots?" Modi said. "So to have a reasonable discussion, first the blasts and gunshots have to stop."
'Zero Tolerance'
Modi's administration will adopt business-focused diplomacy with a "zero tolerance" stance on terrorism, according to Puri, who served in the Indian foreign service for about four decades and worked in Japan, the U.K. and Sri Lanka.
"I would recommend to those who have to fashion their policies: Don't test this man on that," said Puri, who was president of the UN Security Council from August 2011 to November 2012. "If you have someone who inflicts an act of terror on you, you have to find out who that somebody is and you have to deal with that situation."
Sharif had congratulated Modi after his victory and asked him to visit Pakistan for talks aimed at overcoming mistrust stemming from border disputes and terrorist attacks. The last time leaders from the two countries met was in New York in September, when Singh and Sharif agreed to investigate attacks on the border while attending the UN General Assembly.
'Nuisance Value'
The visit would be Sharif's first to India since becoming prime minister. His predecessor, Raja Pervez Ashraf, visited India in March 2013 and met Foreign Minister Salman Khurshid.
The Pakistani High Commission in New Delhi said this week that the nations "had no other option but to talk to each other and normalize relations to their mutual benefit."
Even though the two nations share a 2,000 mile long border, Pakistan ranks 47th among India's largest trading partners. Pakistan accounted for 0.3 percent of India's total trade from April to December last year, according to India's commerce ministry.
"India needs these countries to come along on its growth journey," D. Suba Chandran, director of the Institute of Peace & Conflict Studies in New Delhi, said by phone. "More than the positive contributions, their nuisance value is substantial and a drain on India if it isn't resolved."