India's Modi Invites Pakistan Leader to May 26 Inauguration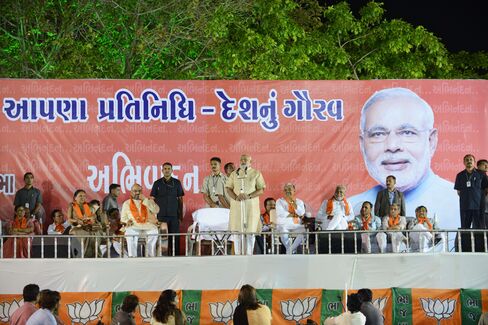 Indian Prime Minister-designate Narendra Modi will invite Pakistani counterpart Nawaz Sharif and other regional leaders to his inauguration next week, a party member said today.
"He has invited all heads of state and government from the SAARC region," Hardeep Singh Puri, India's former United Nations envoy and a member of Modi's Bharatiya Janata Party, said in an interview today, referring to the South Asian Association for Regional Cooperation. It would be the first time regional leaders were invited to see an Indian prime minister sworn in to office, he said.
Tasnim Aslam, a spokeswoman for Pakistan's foreign ministry, said by phone that no invitation has been received yet. The visit would be Sharif's first to India since becoming prime minister. His predecessor, Raja Pervez Ashraf, visited India in March 2013 and met Foreign Minister Salman Khurshid.
Modi will be sworn in as India's prime minister on May 26 after his party won the first majority in parliament in 30 years. He said during the election campaign that he would take a more strident position in dealing with neighboring countries than outgoing Prime Minister Manmohan Singh, whose efforts to boost ties with Pakistan were stymied in part by 2008 attacks in Mumbai that killed 166 people.
'Clear Message'
"Modi is sending a clear message that he has the political will to solve even the region's most complicated problems," said N. Sathiyamoorthy, political analyst at the Observer Research Foundation in Chennai. "It shows that the politician Modi is different than the prime minister Modi."
Sharif earlier asked Modi to visit Pakistan for talks aimed at overcoming mistrust stemming from border disputes and terrorist attacks. The last time leaders from the two countries met was in New York in September, when Singh and Sharif agreed to investigate attacks on the border while attending the United Nations General Assembly.
The nuclear-armed neighbors have fought two of their three wars since 1947 over the disputed region of Kashmir, which is divided between them and claimed in full by both. Since 1988, more than 14,000 Indian civilians and 6,000 security personnel have been killed in violence in the disputed region of Kashmir, according to the South Asia Terrorism Portal, which doesn't have similar figures for Pakistani deaths.
The Pakistani High Commission in New Delhi said this week that the nations "had no other option but to talk to each other and normalize relations to their mutual benefit."
'Bury the Hatchet'
"Now the two democratic countries have to decide whether we will bury the hatchet or will continue to be at daggers drawn indefinitely," High Commissioner Abdul Basit said at the Press Club event in New Delhi on May 19, according to the Hindustan Times, in comments confirmed by the Pakistani embassy official. "The two countries and the people cannot afford to move in the wrong direction and to be on the wrong side of history."
Even though the two nations share a 2,000 mile long border, Pakistan ranks 47th among India's largest trading partners. Pakistan accounted for 0.3 percent of India's total trade from April to December last year, according to India's commerce ministry.
SAARC members include India, Pakistan, Afghanistan, Bangladesh, Bhutan, Maldives, Nepal and Sri Lanka.