How to Turn Do-Nothing Congress Into Market-Beating Stock Picks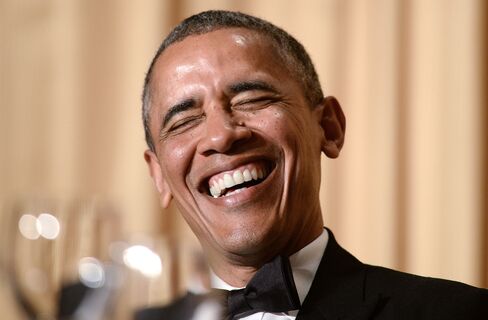 Among the jokes President Barack Obama made during this year's White House Correspondents' Dinner, one may have illuminated a profitable investment thesis.
"If you want to get paid while not working, you should have to run for Congress just like everybody else," quipped the "Comedian in Chief."
Will the U.S. Congress manage to do anything this year? That has been the question on top of clients' minds at just about every meeting Dan Clifton has had this year. Probably not, answered Clifton, the head of policy research at Strategas Research Partners. And that's a good thing, because it allowed Clifton to build a long-short basket of stocks to profit from the dysfunction.
The result is Strategas's Congressional Gridlock Index, which is handily beating the Standard & Poor's 500 Index this year with a 5.4 percent return as of May 16. The S&P 500 was up
1.6 percent over the same period.
Here are a few of the most-interesting picks in Clifton's index, as outlined in a report today:
•Long: Fannie Mae. The stock is up 45 percent this year as of today's open. Strategas says congressional inaction on government-sponsored enterprise reform will buy time for the courts to rule on whether the government "illegally swept profits from shareholders" of GSEs like Fannie.
Best Buy, Yum
•Short: Best Buy Co., already down 38 percent in 2014. Congress has failed to act on passing a tax on Internet sales, which means customers will keep using Best Buy's stores as showrooms while going to the Web to actually purchase their gadgets. The same rationale makes EBay Inc. a long pick in the index.
•Long: Yum! Brands Inc. The owner of the Taco Bell, KFC and Pizza Hut chains is down 1.3 percent this year. Clifton said it should benefit if Congress fails to pass a minimum wage increase.
•Long/Short: Oil. Congress is unlikely to repeal a ban on crude-oil exports, which could lead to a glut that will lower prices for West Texas Intermediate crude. Meanwhile, a "vacuum of world leadership" amid tensions between Russia and Ukraine should boost Brent crude prices. The Strategas index uses exchange-traded funds to bet on a widening spread, shorting the U.S. Oil Fund LP and going long on the U.S. Brent Oil Fund LP. It also is long refiner Valero Energy Corp.
While not everyone will find jokes about a do-nothing Congress funny, perhaps this index will allow investors a chance to get the last laugh.
Before it's here, it's on the Bloomberg Terminal.
LEARN MORE