Citadel Is First Global Hedge Fund to Raise Fund in China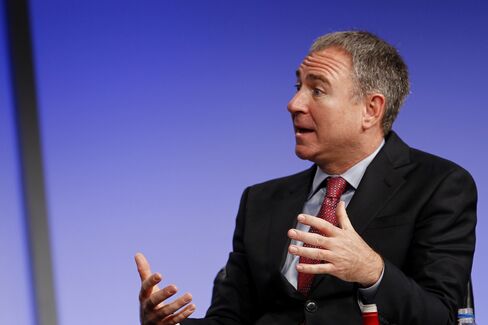 Citadel LLC, led by billionaire Ken Griffin, became the first international hedge fund to complete yuan fundraising from Chinese wealthy individuals and companies through a local unit.
Citadel (Shanghai) Foreign Investment won regulatory approval for currency exchange on March 26, marking the first qualified domestic limited partner, or QDLP, to have successfully completed fundraising in China, according to a statement from the Shanghai government's information office.
China's leaders have pledged to promote freer movement of capital in and out of the country and make the exchange rate more market-based for investment purposes. Shanghai started the QDLP program last year to allow international hedge funds to raise capital in the local currency in China for overseas investments, aiding the government's experiment with capital account convertibility and advancing its plan to build Shanghai into a financial center.
"Foreign alternative managers have generally struggled with designing investment strategies that appeal to qualified Chinese buyers," said Daniel Celeghin, Asia head of Casey Quirk & Associates LLC, a Darien, Connecticut-based adviser to asset managers. "If Citadel, a global brand-name hedge fund, is successful, this will be a highly visible sign of QDLP's visibility."
China Potential
International asset managers have long eyed the fundraising potential of China which had 108.5 trillion yuan ($17 trillion) of local-currency deposits at the end of April, according to data from the People's Bank of China.
The unit of Chicago-based Citadel, which has $18 billion of assets under management, won $50 million of quota in July last year, according to the Shanghai government statement. It began to raise money after receiving a business license on Aug. 30, it added.
Citadel, Man Group Plc, Winton Capital Management Ltd., Oaktree Capital Group LLC, Och-Ziff Capital Management Group LLC and Canyon Partners LLC formed the first batch of foreign hedge funds approved to participate in the QDLP program, Chinese newspaper 21st Century Business Herald reported in September. Each received a $50 million quota, it added.
"They're establishing themselves now in order to have a shot at the future potential demand from Chinese buyers," Celeghin said in an e-mail of the hedge funds' willingness to participate in the experiment.
Investors in the program currently consist mostly of wealthy individuals, private companies and large financial institutions, according to the statement.