The Rise of Cinnamon Imitators Hasn't Slowed Fireball Whiskey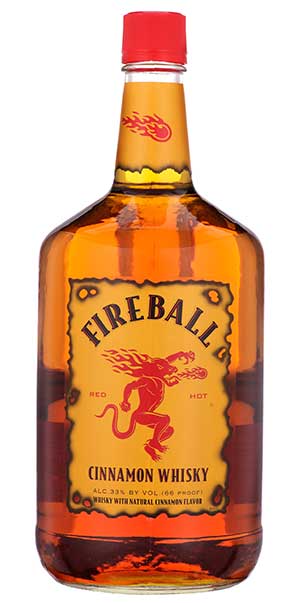 Fireball Cinnamon Whisky already owns the world of bar shots. It beat such established brands as Patron and Jameson in non-bar sales last year. Now the flavored liquor owned by the secretive Sazerac Co. is leaping into the highest echelons of the spirits sector.
Shaken News Daily has released data from states with government-controlled liquor stores such as Ohio, Pennsylvania, and New Hampshire that provides evidence of the spicy whiskey's uncanny gains. "Through the first three months of the year, the Sazerac brand's sales more than doubled," Shaken says. "Fireball is now the seventh-ranked spirits brand in control states, and it's dominating the segment's growth so far this year."
By the end of 2014, the trade publication predicts, Fireball will be one of the top five spirits brands in these states.
The overwhelming popularity of Fireball has been unusual in two ways. First, Sazerac didn't rely on traditional advertising to win converts. Instead, it used social media to spread the word about the flavored whiskey, which tastes like liquefied Big Red gum. The drink seems to appeal to women more than men, and this may foster an even deeper male appreciation of Fireball. (No studies support this, as of yet).
Second, the Fireball surge has continued, even though Sazerac's rivals at the Jack Daniel Distillery and elsewhere have introduced competing cinnamon-laced products. As I reported in Bloomberg Businessweek:
Jägermeister has introduced a cinnamon-and-vanilla-spiced version of the German digestif. Jose Cuervo has created Cinge, a cinnamon-laden tequila. In April, the Jack Daniel Distillery began selling Jack Daniel's Tennessee Fire, a 70-proof cinnamon variant of the world's best-selling whiskey.
Normally, spirits companies like to crow about such a marketing triumph. Sazerac is different. It refuses to talk about the Fireball phenomena. Perhaps that's understandable. At this point, it might as well keep quiet and let Fireball carry out its manifest destiny.
Before it's here, it's on the Bloomberg Terminal.
LEARN MORE