Modi Shows Emotion as He Becomes India's Prime Minister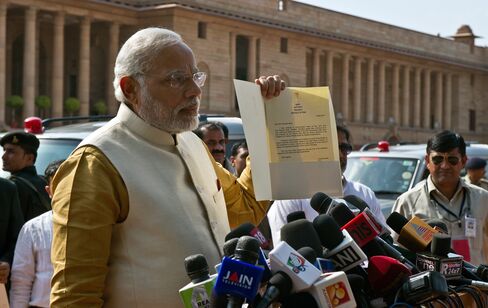 Narendra Modi fought back tears during a speech accepting his party's nomination to become India's next leader, a display of emotion that contrasted with his predecessor who had limited interaction with the public during a decade in office.
President Pranab Mukherjee appointed Modi as the country's prime minister yesterday and advised him to give the names of his cabinet, according to a statement. Modi will officially start work the day after he is sworn on May 26, presidential spokesman Venu Rajamony said by phone.
Modi, 63, ran a presidential-style campaign based on his record in bringing higher-than-average economic growth rates to Gujarat, the western state he has run since 2001. His party ended up winning the first majority in 30 years last week after his message of development resonated across social divisions in a country with a third of the world's poor.
"Modi is talking and connecting with the people," said S. Chandrasekharan, director of the New Delhi-based South Asia Analysis Group, adding that his style is a "total contrast" to outgoing Prime Minister Manmohan Singh. "The previous prime minister never talked. There was a joke going around that he only opened his mouth for the dentist."
Subdued economic growth and Asia's second-fastest inflation have eroded the purchasing power of more than 800 million Indians who live on less than $2 per day, according to the World Bank. The BJP-led bloc won 336 of the 543 seats up for grabs, with the party alone winning 282.
'Historic Day'
"The government should think of the poor, hear them and live for them," Modi, the son of a tea seller, told BJP lawmakers yesterday in New Delhi. "The new government is dedicated to the poor of this country, to the country's youth and for the respect of our mothers or sisters. It's for the farmers, villagers, poor and the lower castes. It's to fulfill their dreams and aspirations."
Several thousand cheering supporters greeted Modi as he arrived in India's capital on May 17, the day after his victory. He was showered with rose petals while hanging on the side of the car.
India has not seen this outpouring of support for a prime minister since the country's first prime minister and independence hero Jawaharlal Nehru, according to Uday Bhaskar, a fellow at the Society for Policy Studies in New Delhi.
"Can you imagine any other Indian prime minister standing on the footboard of the car and trying to pump flesh?," Bhaskar said. "When did you last see anyone doing that?"
Cabinet Posts
Modi shook hands and waved at supporters who strained to take his photograph last week during victory rallies in New Delhi and Varanasi, his constituency. He has given several public speeches since then thanking voters.
Singh held three formal press conferences during his 10-year tenure. A former central bank governor and finance minister, Singh never won an election to the lower house of parliament.
Backroom talks are continuing for cabinet positions. His government will face the challenge of boosting an economy growing at near the slowest pace in a decade while averting a sovereign rating downgrade and handling territorial disputes with neighboring nations.
Arun Jaitley, 61, a former trade minister, is the frontrunner to become finance minister even though he failed to win a seat in the lower house of parliament, according to two senior party leaders, who asked not to be identified because the discussions are private. Other coveted posts include foreign affairs, home and defense.
Congress Punished
The outgoing Congress-led alliance garnered 59 seats in the election and smaller regional parties took 148. Voters punished the Congress party for a slowdown in growth, as well as inflation exceeding 8 percent and graft scandals.
The Gandhi family retained control of the Congress party despite its worst-ever electoral defeat, underscoring the lack of alternatives in an organization that has governed the country for most of its history.
Congress's highest decision-making body this week rejected offers to resign from Sonia Gandhi, the party's president, and her son Rahul Gandhi, its vice president, according to Janardan Dwivedi, the party's general secretary.
"The Working Committee unanimously said that resignations will not solve the party's problems," Dwivedi told reporters in New Delhi on May 19. The party plans to prepare a road map to address its issues, he said.
100 Days
Modi's policies over the next few months will have significant implications for the nation's credit rating, Standard & Poor's said May 16. The company had said it might downgrade Asia's third-biggest economy to junk status if the next government is unable to revive growth.
Bond risk for India is falling, with the five-year credit default swap on the nation's largest bank -- considered a proxy for the sovereign -- dropping 55 basis points this month, the steepest decline since September when Modi was named as a prime ministerial candidate. The rupee weakened 0.2 percent today to 58.74 per dollar as of 1:39 p.m. in Mumbai.
"The agenda of the government in the first 100 days will be important to maintain positive momentum," Radhika Rao, an economist at DBS Bank Ltd. in Singapore, wrote in an e-mail. The decisive win "will pave the way for swift decision-making and implementation of reform measures," she said.
Before it's here, it's on the Bloomberg Terminal.
LEARN MORE