Modi Boosts India Outlook as Morgan Stanley Forecast Raised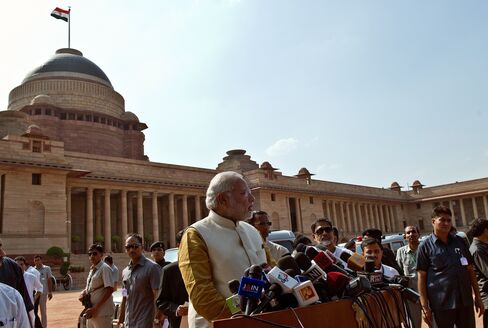 The prospect of Prime Minister-designate Narendra Modi leading India's most stable government in three decades has prompted economists to raise growth forecasts in the world's second-most populous nation.
Morgan Stanley, Citigroup Inc. and Nomura Holdings Inc. see faster expansion in the next few years on Modi's plans to attract investment and build more ports, roads and bridges. Gross domestic product will expand at a four-year high of 6.5 percent in the year through March 2016, Morgan Stanley predicts, compared with a previous estimate of 6.2 percent.
"The election results could be an inflection point for India's story," said Chetan Ahya, Morgan Stanley's Hong Kong-based chief Asia economist. "The decisive election outcome suggests the new government will be able to implement reforms at a faster than previously expected pace."
Modi's win has sparked optimism that India's economy will lead a rebound in the biggest emerging markets, as Russia grapples with Ukraine tensions and China contends with rising bad loans and slowing growth. Modi should use his mandate to cut subsidies and increase spending on infrastructure to spur private investment from a nine-year low, Ahya said.
Citigroup and Nomura both raised their forecasts for India's $1.8 trillion economy, saying it will expand 6.5 percent in the 2016 financial year -- up from 6.2 percent and 5.7 percent, respectively. India will have growth of 6.1 percent in fiscal 2016, according to a Bloomberg survey published April 30, compared with China's 7.25 percent, Brazil's 3.2 percent and Russia's 2.5 percent.
Political Clarity
"With political clarity emerging, business and household confidence is likely to rise," said Sonal Varma, an economist at Nomura in Mumbai.
India's economy probably grew 4.9 percent in the year ended March 31, near the previous period's 4.5 percent that was the slowest since 2003. The government and Reserve Bank of India don't have official growth forecasts for 2016.
Modi will probably simplify approval and implementation policies for infrastructure and industry, help companies improve their balance sheets and boost bank's capital, according to Morgan Stanley's Ahya. The policy overhaul will improve business sentiment and corporate profits, incentivizing them to spend more, he added.
Investments by private companies fell to 9.2 percent of GDP in the year ended March 2013, the lowest in data going back to 2005, according to estimates from the Ministry of Statistics and Programme Implementation.
Possible Roadblocks
Boosting this and controlling Asia's second-fastest inflation is crucial to spur growth from near a decade low, according to Nomura.
The BJP-led bloc won 336 of 543 seats up for grabs, more than the 272 required for a majority. The party alone garnered 282, with the Congress getting 44 seats and smaller regional parties got 148.
While this guarantees smoother progress for bills in the lower house, India's federal system means negotiating through the upper house and with state governments may hobble efforts for faster implementation of key policies, according to Citigroup.
HSBC Holdings Plc predicts that another roadblock might be presented by the bureaucracy, which was rated the worst among 12 Asian economies tracked by Political & Economic Risk Consultancy Ltd. in 2013. The BJP has only 61 of the 245 members in the upper house, and forms governments in just six of 28 Indian states.
Gradual Revival
"The revival will be investment-led but gradual," said Rohini Malkani, Citigroup's Mumbai-based economist. "We are optimistic but believe the path will be more gradual than sharp."
Risks to economic growth emanate from the threat of higher interest rates if El Nino weather effects damp farm output and stoke inflation, Malkani said.
Lowering price pressures is crucial to boosting growth, Reserve Bank of India Governor Raghuram Rajan reiterated this month. He has raised the benchmark repurchase rate to 8 percent from 7.25 percent in September. The government must pursue "fiscal discipline" and should create a more competitive corporate environment, Rajan said in a speech in New Delhi yesterday.
Markets Gain
The value of Indian equities has climbed by $412 billion, or 41 percent, to $1.42 trillion since the BJP named Modi as its candidate for prime minister on Sept. 13. That's helped the country replace Australia in the world's top 10 stock markets.
Companies likely to benefit the most from a revival in the economy, such as infrastructure firms, have been the biggest gainers. That's a turnaround from the previous three years, when investors bought defensive shares, such as makers of consumer goods and pharmaceuticals.
Bharat Heavy Electricals Ltd. has surged 54 percent this year, the top performer on the S&P BSE Sensex index. Larsen & Toubro Ltd., the nation's biggest engineering company, has gained 39 percent. NTPC Ltd. rose 2 percent today, while Hindustan Copper Ltd. gained 7.3 percent to its highest level in a year.
Bond risk for India is falling, with the five-year credit default swap on the nation's largest lender, considered a proxy for the sovereign, declining 55 basis points this month, the biggest drop since September. The rupee fell 0.2 percent to 58.75 per dollar as of 10:58 a.m. in Mumbai, paring its advance since Sept. 13 to 8 percent, the best in the world.
"Faster decision-making and reforms, along with prudent monetary policy, should gradually correct India's macroeconomic imbalances,'' said Nomura's Varma. ''Economic fundamentals change slowly, but as they do, they should feed off each other and unleash other positive indirect effects on the economy.''
Before it's here, it's on the Bloomberg Terminal.
LEARN MORE