Godzilla QE Bets Spur Louder Calls for Japan Stock Rally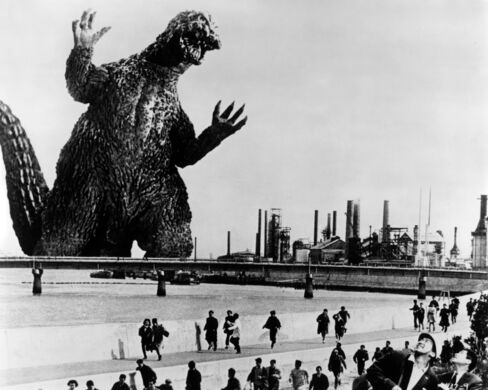 Here are two things that are rare in Tokyo: Godzilla talks out his problems with other monsters peacefully, and Japan's stocks trade at a discount to the U.S.
The latter is true these days for the first time since October 2012 as the Nikkei 225 Stock Average's 14 percent plunge this year leaves it at 15.9 times forecast earnings, compared with about 16 times for the S&P 500 as of yesterday's open. While the discount is small, it's notable how infrequently it occurs.
In 2012, the discount lasted for about five months and preceded a 57 percent rally in the Nikkei 225 in 2013 that almost doubled the S&P 500's 30 percent gain for the year. The bad news, of course, was that most of the outperformance was due to a weakening yen. In dollar terms, the Nikkei 225 rose 28 percent last year.
The previous occurrence of any considerable length lasted for about half of October in 2008, which is also the last time Japan's valuation was lower on a trailing basis. The Nikkei beat the S&P 500 by 10 percentage points from the end of October 2008 through October 2009. Priced in dollars, it beat the U.S. benchmark by 21 percentage points.
Godzilla-Sized
Increases in earnings estimates, coupled with lower valuations and the drop in stock prices, make Japan's equities the most attractive on Oppenheimer & Co.'s rank of 30 countries, according to a report this week from the firm's portfolio strategist Andrew Burkly.
A "Godzilla-sized quantitative easing" program, along with other factors such as a push by government pension funds into stocks, could lead to a "blockbuster summer" for Japanese equities, according to Jeff Kleintop, chief market strategist at LPL Financial LLC in Boston, who is clearly excited about the return of the Japanese monster to theaters.
This year's dip in stocks and economic headwinds from higher consumer taxes may lower Japanese policymakers' confidence and prompt an extension of quantitative easing beyond 2014, according to Kleintop. That, he said, "could be the key to turning around Japan's stock market." The announcement of extended stimulus may happen as early as today, though it's more likely to occur in the summer, he wrote.
Strategists' forecasts for the Nikkei 225 have come down this year, yet still call for a big rebound from current levels. The average estimate in a Bloomberg survey forecasts an 8.8 percent gain from yesterday's close to 15,317 by the end of June. The gauge is seen climbing 21 percent to 17,100 by the end of the year, according to the average of 11 estimates. At the beginning of the year, strategists projected a 2.7 percent rise to 16,738 by June 30 and a 2014 increase of 6.4 percent.
The big question is whether the rebound would need to rely solely on a weaker yen that reduces returns in dollar terms.
But with this year's version of "Godzilla" providing some economic stimulus to the world's movie houses, maybe it's time for Japan's equities to lift their heads out of the water too.
Before it's here, it's on the Bloomberg Terminal.
LEARN MORE