Energy Trader Turned Caribbean Surfer Watches for Waves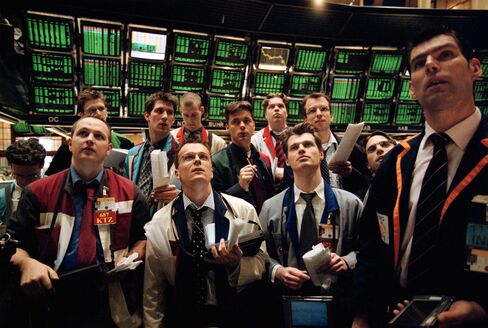 Europe's fivefold surge in wind and solar power generation in the past decade sent power prices to nine-year lows and Lars van der Laan to a new job as a kite-surfing instructor.
Van der Laan, 37, is now earning about 20 percent of what he used to as a power trader for Nidera NV in Rotterdam. On the other hand, he is living in the Caribbean and his biggest concern about the weather is its effect on the waves rather than how it might impact electricity generation.
"I don't wear a suit and tie anymore and I only need to wear shoes twice a month," Van der Laan said by phone from Bonaire, Netherlands Antilles, with the sound of parrots squawking in the trees in the background.
The jump in alternative energy wiped out more than $400 billion in market capitalization for utilities from RWE AG to GDF Suez SA. Bank of America Corp. and Cargill Inc. are among those disbanding the most trading teams since the markets were liberalized in the 1990s, citing less demand and more regulation.
As many as 120 European power and gas traders lost or changed their jobs last year as the industry faces its biggest shakeout since the collapse of Enron Corp. more than a decade ago, recruiters say. Some of those leaving the energy markets are now in real estate, farming or selling wine. Those still trading may earn a quarter of what they did in 2007 when salaries peaked, according to Commodity Appointments Ltd. in Petersfield, England.
Selling Homes
"The energy market is in a state of flux with many desks and jobs disappearing," said John Purcell, the chief executive officer of London-based Purcell and Co., a recruitment company founded more than a decade ago. "As they have a very specific skill set, traders who find themselves out of a job might have to retrain to work in a different arena."
Take Angel Sanz, 38, who left Barclays Plc in London in June after six years as a director of commodity sales and origination. He now helps his wife sell holiday homes from Spain to the Czech Republic through their company Domus Global SRA. Their biggest deal: an 8 million-euro ($11 million) home in Tuscany, Italy.
"I still work long days and travel a lot but now I choose my hours and have more of a work life balance," Sanz said.
The U.K.'s second-biggest bank by assets closed its U.S. and European power trading businesses in February and said April 23 it would withdraw from most global commodities markets.
"Regulation definitely played a big role," Sanz said. "You could see that certain business units would get reduced."
Patrick Barouki, the bank's former head of gas and power trading, is joining EON SE's global commodities unit.
Aurelie Leonard, a spokeswoman for Barclays in London, declined to comment when reached by e-mail on April 30.
More Regulation
Banks have been forced to cut their exposure to credit risk as regulators scrutinize markets from bonds to gold. The European Commission, the European Union's executive arm, imposed a requirement in 2012 for all over-the-counter derivatives transactions to be guaranteed through a central clearing house. The 28-nation EU in January agreed to impose size limits on commodity trade positions to reduce speculation.
At the same time, markets are contracting. Gas trading in Europe's four biggest consuming nations fell 3.9 percent last year, led by a 14 percent drop in U.K. volume, according to Trayport Ltd. in London.
Natural gas futures in the U.K. dropped 35 percent this year and are near the lowest level in more than three years. Electricity trading volume in Germany, the region's biggest economy, France and the U.K. slid 16 percent in the first quarter from a year ago, according to Trayport.
Slumping Power
German next-year power, a benchmark contract in Europe, slumped 16 percent in 2013 and dropped another 6.5 percent this year, broker data compiled by Bloomberg.
Bank of America, based in Charlotte, North Carolina, cited regulatory changes and weaker client demand when it announced in January its withdrawal from European electricity and gas markets. Cargill, the largest closely held U.S. company, said in March it would stop trading European power and gas because of weaker demand. Some traders lost their jobs and some moved to other roles, Pete Stoddart, a company spokesman in Minneapolis, said April 29 by e-mail.
The job market for power and gas traders hasn't been so bad since Enron's collapse in 2001, according to Mark Tomlinson, a recruiter for 14 years and the managing director of Fundamentals Consulting Ltd. in London.
Biggest Trader
The demise of what was at the time the world's biggest energy trader prompted companies from Dynegy Inc. to Mirant Corp. to withdraw from Europe. Barclays's subsequent expansion in power and gas was built on hiring more than 20 former Enron employees in 2002.
There are about 2,000 European power and gas traders, according to recruiters. The highest-paid earn about 700,000 pounds ($1.2 million) a year including bonuses, according to Shaun Smart, a principal associate at Commodity Appointments. That compares with as much as $5 million in 2007.
"The biggest change has come with bonuses falling across the board," Smart said April 8 in an interview in London.
Commodities revenue at the 10 largest banks fell 18 percent last year amid reduced volatility, Coalition, a London-based analytics company, said in February.
Banks that exited physical energy trading fired traders, left infrastructure behind and lost the ability to conduct business, according to Simon Tywuschik, principal consultant at PA Consulting Group. They won't return soon, he said today at a conference in Dusseldorf, Germany.
Citigroup, Goldman
Not all banks are pulling out. Citigroup Inc., based in New York, expanded its gas and power business in the past year in Europe, Simon Boughey, a spokesman in London, wrote in an e-mail April 24. The bank has no plans to hire more, he said. Lloyd C. Blankfein, the CEO of New York-based Goldman Sachs, said in September that the bank's physical commodities unit is a "core, strategic" business. Morgan Stanley has more than 15 European power and gas traders, Hugh Fraser, a London-based spokesman for the bank, said May 9 by phone.
Bank of America remains active in liquefied natural gas origination, a market it entered in 2011. The company said in March it signed an agreement to supply cargoes to a floating storage and regasification unit in Dubai starting this summer.
"We continue to see opportunities in our LNG business across the region," Peter Abdo, managing director, origination and head of LNG in London, said yesterday. "Recent multi year supply agreements demonstrate how we position our LNG business around structured origination serving clients."
Danske Commodities A/S, a closely held Danish energy trader, hired 192 people last year, almost doubling its headcount, Torben Nordal Clausen, the CEO, said in an interview in March.
Most Volatile
The 10-year-old company based in Aarhus specializes in trading power for delivery in the next 48 hours, the period prices are at their most volatile because of fluctuations in renewable energy supply.
As Europe's green power production jumped 39 percent since 2010, Danske's trade volume rose 30 percent last year, and it hired traders from companies including Barclays and Dusseldorf, Germany-based EON, which lost money on proprietary energy trading in 2012 and 2013, company filings show.
After trading energy for 13 years at companies including JPMorgan Chase & Co. and EDF Trading Ltd., Daken Engmann, 40, bought a 53-acre farm in the Wicklow mountains south of Dublin in October. He plans to rear organic Dexter cattle, which are smaller than the average cow, with a projected herd of 21 animals.
"We've got a couple of donkeys and a 33-year-old horse," said Engmann. "These things take time to build up."
Wine, Cider
Gilles Corre, 43, a former director of structured carbon at London-based Tullett Prebon Plc, said he didn't want to be "the last one out." He set up Asset Wines in January 2013, and now spends most of his time driving around France pursuing his passion for the world's most expensive wines. His biggest sale so far was 100 bottles of Domaine de la Romanee-Conti, a French Burgundy, for 700,000 pounds.
For Gavin Tait, 44, the move from carbon markets to cider making was one the former ABN Amro Bank NV trader had thought about for years.
"I knew it wouldn't last forever so with a bit of that in mind about three years ago I planted 850 apple trees," he said from his 3-acre orchard near Southampton on England's south coast. "Commodities are volatile and employment is too."
Van der Laan, who spent 13 years at companies from Nidera to Germany's EnBW Energie Baden-Wuerttemberg AG before starting the Bonaire Kite School, doesn't miss the expensive watches, cars and lifestyle that often accompany a career in trading. He kept his Breitling watch, but doesn't wear it.
"When I left Europe, I had a VW Touareg in private and a nice company car," he said. "Now I drive a 10-year-old Mercedes van with a boat trailer."