Credit Suisse Plea Has Unclear Impact as Shares Rise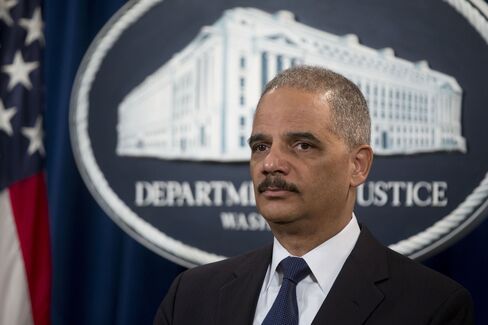 The Justice Department didn't blink in its pursuit of a guilty plea from Credit Suisse AG for helping thousands of Americans evade taxes. What prosecutors accomplished with the criminal conviction -- the first of a major bank in a decade -- isn't as clear.
The punishment, announced yesterday in federal court, was intended to send a strong message to other banks and quell public criticism since the 2008 financial crisis that prosecutors have been soft on financial institutions. Investors, however, were undaunted. Credit Suisse rose the most in six months, gaining as much as 3 percent, in Zurich trading.
Credit Suisse agreed to pay $2.6 billion -- the largest penalty in an offshore tax case -- for using secret Swiss accounts to help Americans hide money from the Internal Revenue Service, concluding a three-year probe by the U.S. The case is the capstone of the Justice Department's eight-year effort to shut down offshore tax havens.
"This case shows that no financial institution, no matter its size or global reach, is above the law," Attorney General Eric Holder said at a press conference yesterday. "A company's profitability or market share will never be used as a shield from prosecution or penalty. And this action should put that misguided notion definitively to rest."
Eight Credit Suisse employees have been indicted in the matter. Top executives including Chief Executive Officer Brady Dougan are expected to keep their jobs, even though Holder called the conduct "an extensive and wide-ranging conspiracy."
Striking Balance
If the penalty strikes the right balance between punishing the bank and containing broader market repercussions, prosecutors could use it as a model in other matters, such as a probe of BNP Paribas SA's transactions with sanctioned countries.
Credit Suisse AG is the bank subsidiary of the ultimate parent, Credit Suisse Group AG. Credit Suisse AG has dozens of subsidiaries that conduct most of the firm's business, according to its most recent annual report.
Prosecutors have been reluctant to criminally charge large companies after the Justice Department's 2002 indictment of Arthur Andersen LLP caused the accounting firm to collapse and put 85,000 people out of work.
To contain fallout from the Credit Suisse plea, prosecutors worked in concert with banking regulators, who moved to reassure some of the largest U.S. financial firms that Credit Suisse's guilty plea won't trigger a crisis, according to a person briefed on the conversations.
'Weighty Decision'
The full impact of the plea may not be felt immediately, and early indications suggest that Credit Suisse's counterparties won't turn their backs on Switzerland's second-biggest bank. Lloyd Blankfein, chief executive officer of Goldman Sachs Group Inc., said May 16 that "it becomes a very weighty decision for us to cut someone off, and we wouldn't do it lightly."
Some clients could react differently. New York Life Insurance Co., which manages more than $500 billion and is a client of Credit Suisse, will re-evaluate its relationship with the bank, said John Kim, the firm's chief investment officer.
The insurer will seek to "determine whether there's something sort of systematic to that institution that caused them to behave poorly on one side of their business, and whether that extends to the investment banking side," Kim said in an interview.
The Securities and Exchange Commission said yesterday that the five-member commission voted unanimously to grant Credit Suisse and its affiliates a temporary exemption to continue doing business as an investment adviser. The bank's felony conviction would have otherwise resulted in a ban from the business.
The SEC also voted 5-0 to waive a requirement that would have prevented Credit Suisse and its affiliates from raising money through private offerings. Under federal law, companies and people that plead guilty to a felony need a waiver to continue offering securities through unregulated private placements.
'Collateral Consequences'
The Credit Suisse case could pave the way for other guilty pleas by companies, which have in recent years been able to settle criminal investigations with deferred- or non-prosecution agreements. At least 20 such agreements with financial firms have been entered into during Holder's five-year tenure, according to data published by law firm Gibson Dunn & Crutcher LLP.
If prosecutors were to seek a guilty plea from an American bank, the regulatory hurdles could be more complicated. While Credit Suisse has a license to operate in the state of New York, nationally-chartered banks are overseen by the Office of the Comptroller of the Currency, which would be central to deciding whether the bank could stay in business.
"The Justice Department wants to be perceived as tough as nails while avoiding the collapse of a too-big-to-fail institution and other consequences," said Neil Barofsky, a former prosecutor who is now a partner at Jenner & Block LLP. "If there are very few collateral consequences, and the criminal plea is perceived as just another cost of doing business, then the deterrent effect will be minimal."
Earnings Impact
Deputy Attorney General James Cole said the guilty plea was justified because Credit Suisse's misconduct was brazen and took place over many years -- one subsidiary began concealing funds more than a century ago. The bank also destroyed documents and didn't fully cooperate with the Justice Department's investigation, Cole said.
Credit Suisse said yesterday that the penalty would cut into second-quarter earnings by 1.6 billion francs ($1.79 billion) though the bank doesn't foresee the guilty plea having any impact on its licenses or business capabilities.
"All the discussions with clients have actually been very reassuring," Dougan said on a call with analysts and reporters today. "We continue to be hopeful and encouraged that there will be very little impact on business as we go forward."
'Some Repercussions'
Dougan, a 54-year-old American who has led the bank for seven years, has faced criticism in Switzerland, with the Swiss Social Democrats, the second-biggest party in parliament, calling for his resignation along with that of Chairman Urs Rohner. Dougan, who said today he won't resign, downplayed the offshore business and the extent of the wrongdoing during a Senate hearing in February.
"Given the requirements for counterparties and things like that, it's hard to believe there won't be some repercussions," said Nancy Bush, a bank analyst who founded NAB Research LLC in New Jersey.
The agreement may not silence Justice Department critics. Top managers weren't charged, and the bank hasn't produced the names of U.S. account holders at the heart of the matter -- a point lawmakers raised as evidence that prosecutors haven't been aggressive enough.
'Important Blow'
"This guilty plea strikes an important blow against tax evasion through bank secrecy," Senator Carl Levin, who leads the Senate subcommittee that reviewed the Justice Department's tax-evasion probe, said in a statement. "But it is a mystery to me why the U.S. government didn't require as part of the agreement that the bank cough up some of the names of the U.S. clients with secret Swiss bank accounts."
Credit Suisse didn't have to identify as many account holders as bigger rival UBS AG did in its earlier agreement. In 2009, UBS avoided prosecution by paying $780 million, admitting it fostered tax evasion and disclosing to the U.S. the names of 250 American clients. UBS later settled a U.S. lawsuit by revealing the names of 4,450 more account holders.
Through tax treaty requests, the Justice Department got names of 238 Credit Suisse customers out of the 22,000 accounts held by Americans, according to a Senate subcommittee report in February. The panel said the Justice Department should have used subpoenas and other enforcement tools to get the names.
'Serious Consequence'
While Credit Suisse won't turn over the names of account holders -- a violation of Swiss law -- Cole said the bank will help the department with treaty requests and provide other information such as where accounts were transferred.
"This is a serious consequence for a financial institution, and it certainly limits their ability to have any further misconduct in the future by already having one criminal conviction on their record," Cole said during yesterday's press conference.
The last global bank to plead guilty in the U.S. was Credit Lyonnais SA, which admitted in January 2004 it made false statements to the Federal Reserve. Banks including Credit Suisse, UBS, HSBC Holdings Plc and JPMorgan Chase & Co. avoided convictions through settlements in recent years. While prosecutors have extracted guilty pleas from subsidiaries of some large banks, they have spared parent companies.
"The value of a criminal admission only has symbolic value to let the public know the Justice Department is out there doing its job." said Roy Smith, a finance professor at New York University's Stern School of Business and a former Goldman Sachs Group Inc. partner. "I don't think it extracts anything other than an opportunity to register a symbolic victory."
Before it's here, it's on the Bloomberg Terminal.
LEARN MORE