Swiss Face Conundrum as ECB Signals Further Stimulus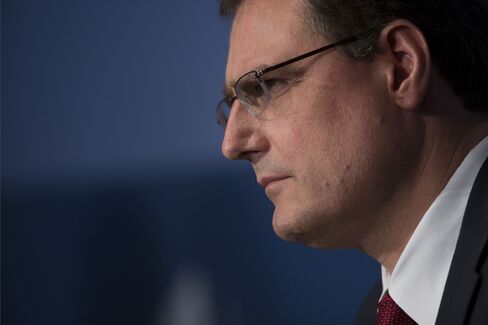 May 20 (Bloomberg) -- Swiss policy makers are under increasing pressure to come up with a contingency plan to curb gains in the franc that would likely result from a fresh round of stimulus from the European Central Bank next month.
The Swiss National Bank already has a zero interest-rate policy, in part to keep the nation's currency from rising beyond the 1.20 franc-per-euro cap in place since 2011. It would need to take steps to defend that level if the ECB cut rates or broadened asset purchases, according to 52 percent of respondents to a Bloomberg News survey this month.
"The SNB could face a conundrum," David Tinsley, an economist at BNP Paribas SA in London, said yesterday in a phone interview. "In the event a negative deposit rate from the ECB produces more pressure on the franc to appreciate, the question is, what would the SNB do about it?"
A measure of anticipated price swings in the franc jumped the most of 15 major peers in the past week, suggesting traders are focusing on the Swiss currency ahead of the ECB's June 5 policy meeting. International economist Nouriel Roubini said officials would consider lowering the ceiling to weaken the currency if needed.
Intervention Speculation
Implied three-month volatility for the Swiss currency versus the euro rose to 2.85 percent, from 2.53 on May 13 and a 1 1/2-year low based on closing prices of 2.52 on May 6, data compiled by Bloomberg show.
Low volatility make options betting on a weaker franc an attractive purchase, according to Yujiri Goto, a foreign-exchange strategist at Nomura International Plc in London.
Bloomberg's monthly survey on the SNB was conducted from May 9-15 and attracted responses from 21 economists. Of the 11 who expected policy makers to respond to ECB easing, seven said they'd intervene in currency markets by selling francs against the euro for the first time since September 2012. The rest said they could charge banks for holding their excess deposits.
SNB spokesman Walter Meier referred Bloomberg's inquiries yesterday to the Zurich-based bank's policy statement of March 20, which said officials stand ready to enforce the minimum exchange rate, by buying "unlimited" foreign currency and taking "further measures as required." The bank has said the currency cap isn't an instrument that can be fine-tuned.
'Last Resort'
With inflation in the 18-nation euro area stuck at less than half its 2 percent target, ECB President Mario Draghi said at the bank's May 8 meeting that he'd be "comfortable" with easing policy next month. Investors interpreted that to mean rate cuts or asset purchases, both of which would tend to weaken the euro and put pressure on the cap.
SNB President Thomas Jordan said at the bank's annual general meeting in Bern on April 25 that officials would defend the franc ceiling to lessen the risk of deflation. The SNB predicts consumer-price inflation will stagnate at zero percent this year and climb to 0.4 percent in 2015, compared with its 2 percent mandate.
"Even if the ECB cuts rates, the SNB won't automatically react," Maxime Botteron, an economist at Credit Suisse Group AG in Zurich, said yesterday by phone. "Should the limit get tested, we think the first thing they'll do is more interventions. Negative rates are really a last resort."
Haven Flows
The SNB set the cap on the franc after it soared to a record 1.0075 in August 2011. The currency has only breached that ceiling once, when it climbed to 1.1999 on April 5, 2012. The franc has remained little changed over the past three months, and was at 1.2220 per euro as of 7:43 a.m. in New York, after earlier sliding to a six-week low of 1.2238.
Swiss policy makers may consider moving the cap "to 1.25 or even 1.30" to weaken the franc and counter deflation should the ECB undertake unconventional easing, Roubini, a professor at New York University and the chairman of Roubini Global Economics LLC, wrote in a May 15 client note.
While the franc is likely to appreciate with ECB action next month, it won't breach its ceiling against the euro, said Manuel Andersch, an analyst at Bayerische Landesbank in Munich.
"However, we wouldn't rule out the possibility that the SNB has to defend its cap again due to safe-haven flows," Andersch said in an e-mailed response to Bloomberg's survey. "One scenario pushing the SNB that far again would be the Ukraine falling into chaos."
Draghi's comments on stimulus prompted the euro to weaken from a 2 1/2-year high of $1.3993 on May 8 on speculation the ECB will lower its 0.25 percent main refinancing rate and its zero percent deposit rate. ECB policy makers including Governing Council member Ewald Nowotny and Executive Board member Yves Mersch have said they're considering a range of measures.
"If the franc starts to appreciate, it's very clear the SNB wants to protect the 1.20 level," Nomura's Goto said yesterday by phone. "The priority for the SNB is to protect the floor."
To contact the reporters on this story: Neal Armstrong in London at narmstrong8@bloomberg.net; Catherine Bosley in Zurich at cbosley1@bloomberg.net; Andre Tartar in London at atartar@bloomberg.net
To contact the editors responsible for this story: Paul Dobson at pdobson2@bloomberg.net; Joshua Robinson at jrobinson37@bloomberg.net Paul Armstrong