Malaysian Airline Stock Drops as State Considers Pullout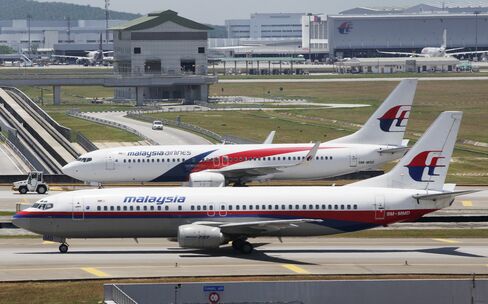 Malaysian Airline System Bhd., the unprofitable national carrier that's still searching for Flight 370, dropped the most since 1998 amid investor concern the government may let the company fail.
The government should consider giving up its stake in the airline, Sinar Harian newspaper reported, citing Malaysia's Public Accounts Committee Chairman Nur Jazlan Mohamed. Bankruptcy may be an option to allow Malaysian Air to restructure, the Wall Street Journal said last week, citing an interview with Prime Minister Najib Razak.
"People believe that this time around, there would not be a bailout like before," said Mohshin Aziz, an analyst at Malayan Banking Bhd. in Kuala Lumpur. "It may be heading" toward bankruptcy, he said.
Malaysian Air tumbled 18 percent to a record low of 15.5 sen at the 5 p.m. local time close, the biggest retreat since the Asian financial crisis. The airline's shares have dropped 60 percent over the last year, compared with the 6.7 percent increase in the FTSE Bursa Malaysia KLCI Index.
The company has 15 sell call ratings and one hold from 16 analysts with an average 12-month target price of 17 sen, data compiled by Bloomberg show.
Government investment company Khazanah Nasional Bhd. owns a 69.4 percent stake in the airline, according to data compiled by Bloomberg. Malaysian Air Chief Executive Officer Ahmad Jauhari Yahya didn't answer his mobile phone when called by Bloomberg News for comment.
Additional Stress
The airline said last week the disappearance of Flight 370 has put additional stress on the company's operations, forcing it to reexamine more urgently its business plan after reporting the biggest quarterly loss since 2011. It had a net loss of 443.4 million ringgit ($138 million) in the three months ended March 31, compared with 278.8 million ringgit a year earlier.
Flight 370 vanished from civilian radars with 239 passengers and crew on March 8 on a flight from Kuala Lumpur to Beijing. No physical trace of the aircraft has been found in what has become the longest hunt in modern aviation history.
Malaysian Air had been struggling with increased competition and higher costs even before the disappearance of the jet as rivals such as AirAsia Bhd. flooded the region with planes and drove down fares.
The Subang, Malaysia-based company has lost a total 4.57 billion ringgit since the start of 2011. The company missed its target to be profitable last year as rising prices for items including fuel, maintenance and financing wiped out revenue gains, and pointed to an unfavorable foreign exchange rate environment as an additional challenge this year.
Before it's here, it's on the Bloomberg Terminal.
LEARN MORE