Becoming a Holy Flack: One MBA's Divinely Inspired Career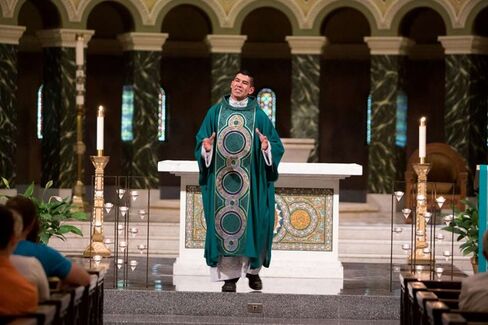 Manuel Dorantes, an MBA candidate at Northwestern University's Kellogg School of Management, is following in the long tradition of students who use business school to grow into a new role with their employer. He just happens to work for the Catholic Church.
Last month, the Vatican tapped Dorantes, an ordained priest, to act as a liaison between Spanish-speaking media and the press office for the Holy See. For his first major assignment, he traveled to Rome for the canonization of Pope John XXIII and Pope John Paul II, where he translated press briefings from Italian to Spanish.
Dorantes, who emigrated from Mexico to the U.S. when he was 12 years old, doesn't expect to graduate until next year. In the meantime, he'll do press work for the Vatican from his home base in Chicago and travel to Rome for major events. He'll also develop a communications strategy for reaching Spanish-speaking journalists.
Dorantes earned a degree in broadcast communications from Loyola University of Chicago while he was in seminary school, and worked for Spanish-language television networks Telemundo and Univision. After serving as associate pastor at St. Clement Parish in Chicago, he enrolled in Kellogg's MBA program in 2013 with support from his archdiocese, which is helping to foot the tuition bill.
Bloomberg Businessweek spoke to Dorantes about why he enrolled in business school, what he's learning, and what he hopes to accomplish with his MBA. An edited transcript of the conversation follows.
Is it usual for a priest to pursue an MBA?
I think it's very uncommon, actually. There have been priests who have found that an MBA would be helpful to them and participated in EMBA or part-time programs. To take time out of active ministry, that's very unique. People ask me: Your bishop gave you permission to do what?
How did you wind up at Kellogg?
I had been serving in St. Clement Parish for three years as a priest. Cardinal [Francis George, Archbishop of Chicago] was talking to me about what I would do next, whether it was to become a pastor or to serve the archdiocese in some other form. I asked a direct question: What's the biggest weakness we have as a church? He thought about it for a couple of moments and said, "Manny, we don't know how to manage."
What are you learning in business school?
A lot of these topics that would apply to any firm—building a team, or leadership—apply to us in the Church. We had someone from Mondelez come in and talk about HR, and about how you manage a global firm with all of these different cultures. And I thought, this is exactly the issue we have. Talent management. Incentives. In a firm, you have money as a way to create economic incentive for employees. We don't have that. I have more questions than answers.
Have your classmates asked you about Pope Francis's criticisms of capitalism?
Our Holy Father's concerns on abuses of the capitalist system come up in the business school setting. It's a worthwhile conversation to be having: How do we return the human person to the center of the economic system? So that it's not the dollar and profit at the center and humanity is now enslaved to the system. My classmates are going to be future business leaders, and that implies responsibility. If we who go to a school like Kellogg don't come up with solutions, who will?
Is a priest allowed to have career ambition? What's yours?
When you become a priest, you take a vow of obedience. I did that really thinking about what I was giving up and what I was gaining. So for me it's going to depend on the archbishop and whatever he decides I should do with the MBA. Personally, what's in my heart is to become a pastor and apply the things I'm learning to the reality that most Catholic priests face. The next archbishop may come in and say, "That was a crazy idea," and ask me to leave business school.
When did you become interested in media?
I entered St. Joseph College Seminary in 2000. In 2001, the sexual abuse crisis hit. Every single day, there were stories in the paper making a case for why I should not become a priest. What bothered me was the way many of our church leaders responded to the media—it was more of a defensive nature, instead of being proactive about what was happening. I discerned that if I was going to be a priest serving in the American context, I needed to understand the press.
And?
I thought about it over the course of months. I made the decision to leave the seminary and pursue a degree in journalism, and then come back to the church. I spoke to the cardinal, and I spoke to the rector. They said, "What we're going to do is give you permission to enter the journalism program at Loyola. You're going to have to juggle the two programs." I had the opportunity to have an internship at Telemundo, the television station.
So it all went according to plan?
For me, on April 27, at St. Peter's Square, talking to the media about the lives of John XXIII and John Paul II—it was the realization of what happened in 2002. I was trying to engage with the secular world. I would never have dreamt I'd be there. In my experience, God's plans have surpassed my own expectations.
Before it's here, it's on the Bloomberg Terminal.
LEARN MORE