Russia Says Putin Orders Troops Near Ukraine Back to Base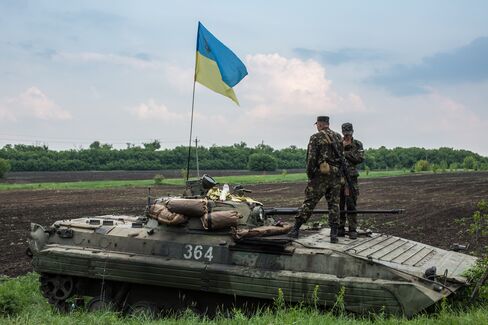 President Vladimir Putin ordered Russian troops near the Ukrainian border back to base, according to the Kremlin, signaling a possible easing of tensions days before Ukraine's presidential election.
Putin told forces in the Rostov, Belgorod and Bryansk regions to return to their bases after completing exercises, according to the presidential press service. U.S. and NATO officials said they saw no immediate evidence of a withdrawal, echoing previous cases where Russia has promised to pull back troops from the border, most recently two weeks ago.
After annexing Crimea in March, Russia has been accused by the government in Kiev and its U.S. and European Union allies of fomenting unrest in the mostly Russian-speaking east of Ukraine. Putin has softened his rhetoric in recent days, welcoming contacts last week between the Kiev authorities and supporters of a decentralization of powers to the regions.
"There does appear to have been a moderation in tensions," Tim Ash, head of emerging-markets research at Standard Bank Plc in London, said in an e-mail. "Both sides now are probably waiting to see the outcome of the presidential election next weekend and how this leaves the lay of the land."
Russian markets extended gains on signs of a softening in the tensions over Ukraine, which have led the U.S. and EU to impose sanctions on Russia's economy and threaten tougher ones.
'Watching Closely'
The benchmark Micex Index of stocks rose 1.6 percent yesterday to the highest level since February. The ruble rose 0.5 percent against the central bank's target dollar-euro basket.
Ukraine's allies, who say that Russia has about 40,000 troops on the border, voiced skepticism about Putin's pledge.
There's no sign of Russian troop movements, Colonel Steve Warren, a Pentagon spokesman, told reporters yesterday. "We do realize that it would take up to 24 hours for movement to begin," he said. "So we are watching closely."
A spokesman for Ukraine's Border Service said it had seen a reduction in Russian activity on the frontier in the past week.
Ukrainian forces continued to clash with pro-Russian insurgents in the eastern Donetsk and Luhansk regions, where pro-Russian groups held referendums on secession this month and set up self-proclaimed administrations.
The Defense Ministry said yesterday that one separatist was killed when a group of about 50 attacked soldiers near a border checkpoint. Interior Ministry officials said there are about 900 rebel fighters in the east, and 50 have been detained.
'Punitive Operation'
Putin called on Ukraine's government to "immediately halt" its "punitive operation" against pro-Russian rebels.
Ukrainian Prime Minister Arseniy Yatsenyuk said the government will try to ensure the May 25 presidential election goes ahead throughout the country. "We realize that in certain places it will be difficult to conduct voting," he said. "But there are very few such places, and this will not affect the election results."
In Donetsk and Luhansk, most polling stations haven't received official voter lists, Andriy Mahera, the deputy head of the Electoral Commission, said in an interview. Threats against members of election commissions have increased in both regions, said the Washington-based National Democratic Institute, which is sending election observers.
Chocolate billionaire Petro Poroshenko is set to win the vote, according to opinion polls.
Before it's here, it's on the Bloomberg Terminal.
LEARN MORE