Scottish Independence Less Popular With Talk of New Power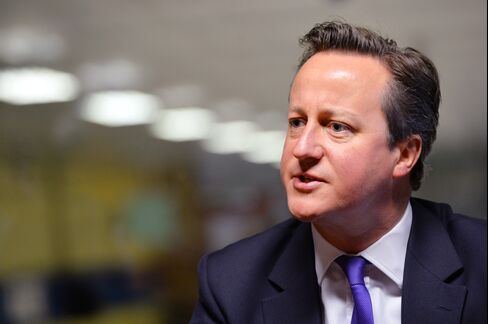 May 19 (Bloomberg) -- U.K. government efforts to dissuade Scotland from seeking independence in a referendum less than four months from now may be starting to pay off after a poll showed a drop in support for the nationalists.
The survey by ICM Research, published yesterday by the Scotland on Sunday newspaper, showed 34 percent of respondents supporting a break, a drop of five percentage points from a month ago and the lowest in eight months. Forty-six percent backed the U.K. remaining intact, an increase of four points. The proportion of people undecided on how they will vote on Sept. 18 rose by one percentage point to 20 percent.
"It is too early to say that the Yes side has suffered a significant reversal," John Curtice, professor of politics at Strathclyde University, said on his "What Scotland Thinks" blog. "There must be some concern that the momentum it developed during the winter has well and truly been stopped."
The Conservative-Liberal Democrat coalition in London and the opposition Labour Party are opposed to Scottish independence, although leaders are willing to cede more power to Edinburgh in attempt to quash any chance of a yes vote following a narrowing in the polls in April. The government is preparing to detail new plans for Scotland by the end of this month.
Prime Minister David Cameron visited Scotland last week and said he was committed to further devolution, the political process of transferring powers that started in 1999 with the re-establishment of the Scottish Parliament.
Clegg's Turn
His deputy, Nick Clegg, will give a speech in Edinburgh today to champion the 2012 Scotland Act, legislation that from next year will allow the Scottish government to raise money in debt markets and a year later set its own income tax rate.
"The story of devolution, the journey to home rule, is not yet complete," Clegg will say, according to excerpts e-mailed in advance. "We believe we can empower the Scottish Parliament and strengthen its accountability even further."
The 12 percentage-point gap in the ICM poll of 1,003 adults on May 12-15 compared with three points a month before. The result matches the deficit in a monthly survey published last week by TNS, which indicated the push to keep Scotland within the U.K. ahead of the referendum was losing ground.
Another poll, conducted by Panelbase May 8-14 and published yesterday by the Sunday Times, found a seven-percentage-point gap, with 40 percent of voters supporting independence compared with 47 percent who oppose it.
Speaking on BBC Television's "Andrew Marr Show" yesterday, Scottish Deputy First Minister Nicola Sturgeon said there was still work for her Scottish National Party to do in promoting the independence argument and that the referendum was creating "good positive debate" about Scotland's future.
To contact the reporter on this story: Rodney Jefferson in Edinburgh at r.jefferson@bloomberg.net
To contact the editors responsible for this story: Alan Crawford at acrawford6@bloomberg.net John Simpson, Andrea Snyder