Saab Declines After Swiss Reject $3.5 Billion Jet Order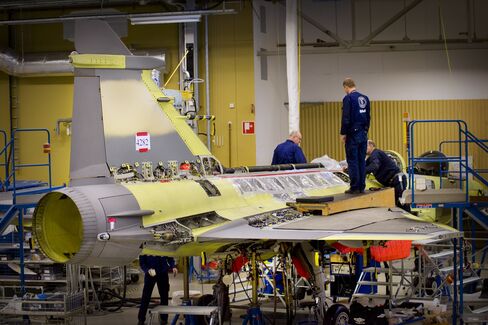 Saab AB fell the most in ten months after Swiss voters rejected a 3.1 billion-franc ($3.5 billion) order for its Gripen fighter jets in a referendum.
The 22-plane contract, which Switzerland awarded 2 1/2 years ago, was opposed by 53.4 percent of voters, the Swiss government in Bern said yesterday. The latest survey ahead of the vote had showed some 51 percent of people opposing the transaction while 44 percent were in favor.
The result is "negative for Saab, but not exactly unexpected given the opinion polls," said Mats Liss, an analyst at Swedbank AB in Stockholm. While a Brazilian contract won last year is more important than the one from Switzerland, the rebuff by Swiss voters means there will be "a period of uncertainty until the Brazil order is finalized," he said.
Gripen opponents had argued that the planes would cost 10 billion francs over their lifetime, money that could be spent on education, transport or pensions. The Swiss Defense Ministry, which initiated the purchase, has said it will honor the result of the vote. The Swiss rejection leaves Saab with orders for the next-generation Gripen E, whose development is contingent on an export order of at least 20 aircraft, from only Sweden and Brazil.
Saab's shares fell as much as 7 percent, the steepest intraday decline since July 19, and were trading 3.7 percent lower at 182.3 kronor as of 12:02 p.m. in the Swedish capital. Trading volume was more than twice the daily average in the past three months.
'Infuriating' Outcome
The Swiss outcome is "infuriating," Jefferies International Ltd analysts, including Sandy Morris, said in a note to clients. Having voters nullify an almost 6 1/2-year process may lead to the suspicion that competitions for fighter aircraft orders are "a waste of effort," they said.
The result "is a clear victory for budgetary sanity," said Regula Rytz, a member of parliament from the Swiss canton of Bern for the Green party. "It doesn't make sense that we have to save on the flood protection, that we have to save on the border security and at the same time buy new aircraft."
The fighter plane's supporters had said that neutral Switzerland needs the Gripen to defend its airspace. That claim got undermined in February with the forced landing of an Ethiopian Airlines Enterprise plane in Geneva. The hijacked plane had to be escorted by French and Italian jets as the Swiss air force doesn't operate outside of business hours.
Thorough Analysis
Swiss Defense Minister Ueli Maurer told reporters in Bern yesterday that the "result requires a thorough analysis." Only once an in-depth study of the matter had been made "can there be a decision on how to proceed," Maurer said.
The Swedish Defence and Security Export Agency FXM, which is responsible for the Gripen negotiations with Switzerland, said what happens next is a question for the Swiss government.
Saab said it respects the process in Switzerland and that the result in the referendum means that the Swiss procurement process of 22 planes stops, according to a statement yesterday. The Gripen E program will continue as planned, it said.
"The Swedish development and production orders placed in 2013 continue, with delivery of Gripen E to Sweden commencing in 2018," Saab said. "The negotiations regarding 36 Gripen NG to Brazil are ongoing and according to plan with the ambition from both parties that an agreement should be signed in 2014."
Swiss Jobs
According to mechanical- and electrical-engineering trade group Swissmem, the no-vote will deprive the Swiss economy of 2 billion francs of orders. The compensation deals tied to the Gripen contract "would have secured jobs in Swiss companies," Swissmem said.
Under the contract, Swiss businesses would have received business from Saab and over 500 contracts have already been arranged, the company said.
"Saab will continue working with Swiss companies and contracts placed will be honored, subject to their terms and conditions," it said.
The Swedish company had clinched a three-way contest to replace Switzerland's fleet of Northrop Grumman Corp. F-5 Tigers in November 2011, edging out offers from France's Dassault Aviation SA and from the Eurofighter consortium of BAE Systems Plc, Airbus Group NV and Italy's Finmeccanica SpA.
Tighter Spending
Saab also beat Boeing Co. last year to develop fighters for Brazil's air force in a deal worth $4.5 billion through 2023. Saab is pushing the Gripen against rival offerings from companies also including Lockheed Martin Corp., the world's biggest defense contractor, just as tighter military spending makes U.S. and European orders harder to come by.
The Swiss result risks making Sweden's purchase of 60 jets more expensive, especially if the contract with Brazil isn't finalized before the end of this year, according to Sweden's Green Party, currently in opposition with the Social Democratic Party.
Last week, Sweden's four-party government coalition agreed with some opposition representatives on a broad boost to the country's military budget that may include funding for 10 additional Gripens in the coming years, although the details of financing were left unresolved. The Nordic country holds parliamentary elections in September, with the government trailing the opposition by almost 10 percentage points in a May 17 poll by Sifo.
Saab aims to sell around 400 Gripens over the next 20 years, said Lennart Sindahl, head of the company's Aeronautics unit. Saab is in "serious talks" with 10 nations which could yield agreements in the near term and "a very significant country" recently made an approach, he said without specifying the country.
The Swiss purchase was put up for a plebiscite after opponents collected the required 50,000 signatures needed for a national referendum to cancel a recently passed law. Swiss voters yesterday also rejected the world's highest national minimum wage, striking down a proposal for an hourly minimum of 22 francs.
Before it's here, it's on the Bloomberg Terminal.
LEARN MORE