Putin's Shanghai Expedition Stokes Gazprom Deal Talk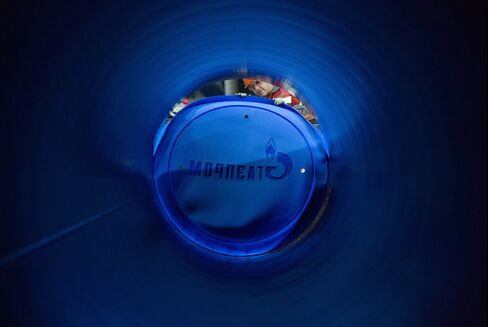 President Vladimir Putin's planned China visit this week is helping spark the longest rally in OAO Gazprom since 2006 as speculation mounts the Russian leader will return with a long-sought gas-supply agreement.
Gazprom, the world's largest natural-gas producer, has climbed for nine days, rallying 16 percent over the period to 147.29 rubles ($4.26) in Moscow. The stock has gained 14 percent this month, compared with a 1.1 percent advance in the Stoxx 600 Oil & Gas index and the MSCI Emerging Markets Energy index's 7.1 percent increase.
The stock is surging as traders interpret the president's visit as a sign Russia is on the verge of getting the long-term gas supply contract it has sought for a decade. Putin is turning to Asia as the U.S. and its allies expand sanctions tied to the incursion in Ukraine. After failing to agree on financial terms in previous talks, rising demand for fuel in China has pushed prices to a level that will probably be acceptable to both sides, Bank of America Corp. said in a May 16 report.
"Russia and China are closer to a deal than they've ever been before," Karen Kostanian, an analyst at Bank of America, said by phone from Moscow last week. "While Russia seeks to diversify its natural gas exports away from Europe, China wants to diversify its fuel imports."
Gazprom will have to spend about $56 billion through 2019 to build a new pipeline to China and develop the Kovykta and Chayanda gas fields in eastern Siberia to supply the gas, Kostanian said.
30-Year Deal
China Gas Holdings Ltd., which supplies natural gas to the city of Harbin in Heilongjiang province that shares a border with Russia, gained as much as 7.3 percent in Hong Kong today.
Gazprom's stock trades in Moscow, London and New York and it is seeking a listing in Singapore, spokesman Sergei Kupriyanov said on May 15 in Moscow. He didn't respond to a message seeking comment on the company's plans in Asia left outside of normal business hours in Moscow on May 16.
Gazprom's American depositary receipts rose 6.5 percent to $8.40 last week. It was the best performer on the Bloomberg index of the most-traded Russian shares in the U.S, which gained 2 percent.
"Investors are waiting for positive news from the China visit," Oleg Popov, who helps oversee $1 billion at Allianz Investments, the asset-management arm of Europe's biggest insurer, said by e-mail in Moscow on May 16. "Speculators are expecting a gas supply agreement with the Chinese partners."
Allianz's Popov said he will consider selling Gazprom shares when the price reaches 160 rubles.
'Pure Business'
The company aims to sign the contract, which is 98 percent ready, during Putin's visit, Deputy Energy Minister Anatoly Yanovsky said in Moscow on May 12. The 30-year deal would allow delivery of as much as 38 billion cubic meters of gas to begin no sooner than the end of 2018, according to Gazprom.
The two sides are still negotiating the price, Zhang Xin, a spokesman for state-controlled China National Petroleum Corp., said in Beijing on May 14, Interfax news agency reported.
"There is no absolute certainty that the deal will be signed this time, as business interests still outweigh geopolitical ideas," Kirill Pyshkin, who helps manage about $10 billion in assets at Mirabaud Asset Management in London, said by phone on May 16. "Gas prices have been the stumbling block in the talks for over a decade, and that hasn't necessarily changed. It's pure business at this point."
The 14-day relative strength index on Gazprom's Moscow-listed stock rose to 73.86 today, above the threshold that indicates to some technical analysts that a security is poised to fall, data compiled by Bloomberg show.
The shares trade at 3.1 times estimated earnings for the next 12 months, compared with a multiple of 9.7 for OAO Novatek, Russia's second-biggest supplier of the fuel, a sign Gazprom has potential for further gains, said Aleksei Belkin, who helps manage about $4 billion in assets as chief investment officer at Kapital Asset Management LLC in Moscow.
The Market Vectors Russia ETF, the biggest U.S. exchange-traded fund that holds Russian shares, added 2.9 percent last week to $24.40.
Before it's here, it's on the Bloomberg Terminal.
LEARN MORE