Modi's Ganges Pilgrimage Unnerves Muslims in Gujarat Slums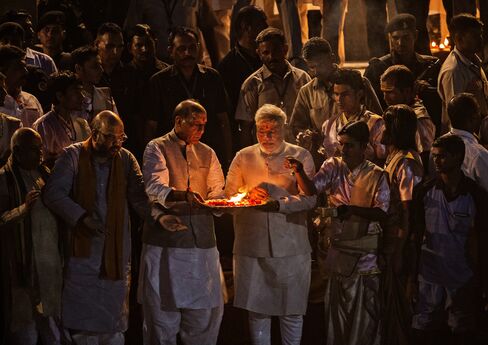 Along the banks of the Ganges River in one of Hinduism's holiest cities, Rajiv Tandon hung flags of Narendra Modi's party in preparation for his arrival a day after he swept to power in India with the biggest mandate in 30 years.
"If you're Hindu, there's nothing greater than the Ganges, and hence Modi ji is starting from here," Tandon, dressed in a saffron-colored shirt, said on May 17 in Varanasi as he took a break for lunch, using a traditional Hindi-language honorific. "This visit is the symbolic start of the mission for Modi ji."
About 850 miles (1,350 kilometers) to the southwest in Gujarat, the state Modi has run since 2001, Muslims who survived riots that killed about 1,000 people a year after he took office say they fear his rise. In Ahmedabad, the state's biggest city, those displaced by the unrest said they avoid entering nearby Hindu-dominated areas and struggle to get jobs and bank loans.
"Even if Modi gives us a house made of gold, I wouldn't want it," Chand Bibi, who now lives in the predominantly Muslim neighborhood of Juhapura after her home was ransacked in the riots, said last week. "Modi has been responsible for all this and I can't forgive him."
As Modi takes office, he'll be scrutinized at home and abroad for his ability to transcend religious divisions and show that his promise of economic development extends to minorities who didn't support him. An early test of how he'll manage tensions may come from Hindu nationalist groups who interpret his landslide win as a green light to fulfill their agenda, including a decades-long quest to build a temple where a mosque was destroyed in 1992.
Division Risk
"If tensions rise as a result of the kind of symbolism we saw in Varanasi, that would disrupt the execution of the BJP's economic policy agenda," said Ghanshyam Shah, a retired professor of political science at Jawaharlal Nehru University and the author of 'Development and Deprivation in Gujarat.' "It would be foolish for Modi, intentionally or not, to divide these communities."
As part of his victory parade two days ago in Varanasi, Modi attended a prayer service at a temple dedicated to Lord Shiva, the Hindu god of destruction and transformation, and paid tribute to the "Mother Ganges," which Hindus consider holy. About 80 percent of India's 1.2 billion people are Hindus, while 13 percent are Muslims.
No Muslims
None of the 282 lawmakers in Modi's Bharatiya Janata Party elected on May 16 are Muslim and the percentage of them in the incoming parliament is one of the lowest in the country's history. The BJP won 71 of 80 seats in Uttar Pradesh, India's most populous state that has more Muslims than any other. Exit polls showed that only 1 in 10 Muslim voters nationwide picked the BJP.
"The message of the mandate is clear -- in this country there can be a government without Muslim votes," Rajiv Pratap Rudy, a BJP general secretary, said by phone, adding that the Congress party is to blame for the impression that the BJP is apathetic to minorities. "Having said that, it's high time that in this new regime the Muslims should come into the national mainstream and should feel part of India, which we believe they are."
The Congress party, led by the Gandhi dynasty, warned during the election campaign that if the BJP came to power then minority rights would be at risk. Congress, which ruled India for the past decade and supports secularism as enshrined in India's constitution, won 44 seats -- its worst performance since the country's founding in 1947.
Hindu Ritual
Congress today rejected offers by party leaders Sonia Gandhi and Rahul Gandhi to resign, according to General Secretary Janardan Dwivedi.
"The BJP is not going to compromise on the issue of Hindutva," Sanjay Jha, a Congress spokesman said in an interview, referring to the ideology of Hindu nationalism. "We fear that they will try and accelerate it."
In Varanasi, party workers and security officials took Modi's photo as Hindu priests chanted over loudspeakers. On the bank of the Ganges, Modi clapped his hands softly while listening to Hindu hymns. He joined other BJP leaders in performing a ritual conducted as a reminder that god is at the center of life.
"There's a lot of work that god has put me on this earth for," Modi told the crowd. "A lot of it is dirty work, but I am up to the task."
Ram Temple
For Anand Sharma, that work includes building a temple to honor the Hindu god Ram in the Uttar Pradesh town of Ayodhya on the site where rioters in 1992 destroyed a 16th-century mosque, sparking violence that killed more than 2,000 people. The BJP included construction of the temple as a goal in its manifesto.
"The Ram Temple is part of the agenda," said Sharma, 36, who works in information technology, as he stood with thousands of supporters along the Ganges waiting for Modi to arrive. "But development is also important. What he needs to do for Muslims is development so he can get them on his side too," he said, referring to Modi.
In Ahmedabad, Muslims say they've been left out of Gujarat's growth story. The state's per capita income nearly quadrupled during Modi's tenure to 61,220 rupees ($1,040), rising at a faster pace than the national average.
Many victims of the 2002 riots settled in Citizen Nagar, a neighborhood filled with the smell of smoke and rotting garbage from a nearby dump that has trash piled 50 feet (15 meters) high. A water tanker pulls up once a day, prompting men, women and children in the 100-family colony to race to get their buckets filled.
Gujarat Riots
"What can his new government do for this ghetto?" said Saleha Bano, 39, whose nephew got married in a relief camp in a modest ceremony after rioters destroyed her family's house, including all the wedding gifts. "If he hasn't done anything in the past 12 years, what can we expect in the future," she said of Modi.
Modi has been accused of failing to stop the rioting in Gujarat, which killed mostly Muslims and prompted the U.S. to deny him a visa. The violence erupted after 59 Hindu activists died in a train fire for which 11 Muslims received a death sentence. He has repeatedly denied the accusations and a Supreme Court-appointed panel found no evidence he gave orders that prevented assistance from reaching those being attacked.
Mumtaz Bibi, 43, said her husband's employer asked him to leave after the riots and he is currently unemployed. Her family was much better off before 2002, she said.
"I do believe Modi has a hand in all this, such a thing can't happen without the connivance of the state," she said. "Now that he's going to become prime minister I would at least expect him to work for the poor and not spread hatred."
Back in Varanasi, Tandon, a shop owner in his fifties, said Modi's victory would "show the supremacy of the Hindu religion and prevent it from disappearing."
After Modi's speech, Rajiv Yadav talked about the revival of Hinduism while eating fried chips alongside the Ganges.
"Every country needs to have an identity," said Yadav, 49, who operates a printing press. "Russia has one, the U.S. has one, and they're strong countries. Our new government will try to establish our identity, and it'll be a Hindu identity."
Before it's here, it's on the Bloomberg Terminal.
LEARN MORE