Middle East Virus Identified in Third U.S. Patient, CDC Says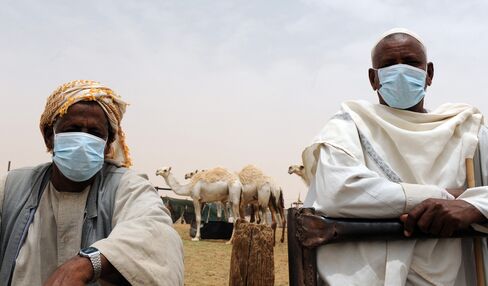 May 18 (Bloomberg) -- An American who had contact with an Indiana health-care worker infected with a potentially lethal Middle Eastern virus was found to have the disease, though he had no symptoms and didn't require medical care.
The latest case, located in Illinois, is the third confirmed on U.S. soil, the Centers for Disease Control and Prevention said in a statement.
The original U.S. case of Middle East Respiratory Syndrome coronavirus, or MERS-CoV, involved a person who returned April 24 from Saudi Arabia. That patient was successfully treated in a U.S. hospital and has since been released.
The newest patient, whom the CDC didn't identify, "did not seek or require medical care," the agency said.
Local health officials in Illinois have been monitoring the new patient's health daily since May 3 as part of the CDC's review of the outbreak, the agency said. The man met with the Indiana patient twice since he returned from Saudi Arabia.
The Illinois patient was first tested for MERS on May 5 and results were negative. A subsequent test turned up positive for MERS antibodies on May 16, though the man never reported feeling sick and is still "feeling well," the CDC said.
The coronavirus has infected 572 people worldwide, with 173 deaths, according to the CDC and the World Health Organization. The virus was first identified in Saudi Arabia in 2012; its origin is unknown and it's not clear how it spreads. Health-care workers who treat infected people and others in close contact with them appear to be at the highest risk of contracting the illness.
Current Recommendations
"This latest development does not change CDC's current recommendations to prevent the spread of MERS," said David Swerdlow, who is leading CDC's MERS-CoV response, in the agency's statement. "It's possible that as the investigation continues, others may also test positive for MERS-CoV infection but not get sick."
In addition to the Indiana and Illinois patients, a 44-year-old man in Orlando, Florida, who arrived from Saudi Arabia on May 1 was diagnosed with MERS. He was admitted to Orlando's Dr. P. Phillips hospital on May 8.
He was "in good condition and continuing to improve," the hospital said May 12.
A spokesman for the hospital, Geo Morales, didn't immediately respond to an e-mail today asking about the Orlando patient's current condition, or the results of tests on hospital workers. At least 20 workers at Philips were tested for MERS and one was admitted to the hospital, although the person wasn't found to carry the virus.
Symptoms of MERS include coughing, fever and respiratory distress. None of the U.S. MERS patients appear to have developed life-threatening illness.
To contact the reporter on this story: Alex Wayne in Washington at awayne3@bloomberg.net
To contact the editors responsible for this story: Reg Gale at rgale5@bloomberg.net Mark Schoifet