China Home-Price Growth Slowdown Spreads on Discounting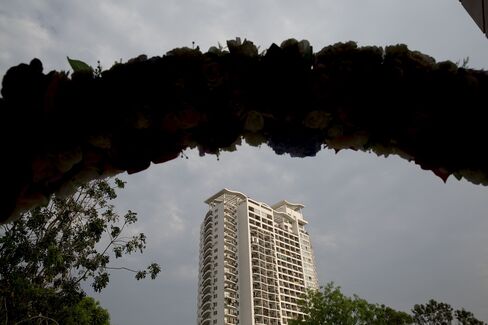 May 19 (Bloomberg) -- China's new-home prices rose in April in the fewest cities in a year and a half as developers offered discounts and the economy slowed, prompting the easing of property curbs in some places.
Prices last month climbed in 44 of the 70 cities tracked by the government compared with 56 in March. That was the fewest metropolitan areas with price gains since October 2012 when increases were recorded in only 35 on a monthly basis.
After four years of government restrictions to cool the housing market, home sales and property construction are sliding and have become a drag on the country's economy, which recorded its slowest growth in six quarters in the first three months of the year. The central bank on May 13 called on the biggest lenders to accelerate the granting of mortgages as developers including China Vanke Co. and Greentown China Holdings Ltd. cut property prices to lure homebuyers.
"China's property market is on a very dangerous brink," Xu Gao, Beijing-based chief economist at Everbright Securities Co., who formerly worked at the World Bank, said in a phone interview yesterday. "Concerns about the slowing market led to weakening prices and sales, which turned into a vicious circle."
Home-price growth moderated both in first-tier and less affluent cities. Prices in Beijing rose 0.1 percent from March, the National Bureau of Statistics said in a statement yesterday, the slowest since September 2012, while Shanghai prices increased 0.3 percent, the smallest gain since November 2012. The eastern city of Hangzhou had the largest decline in April among cities tracked, with prices falling 0.7 percent from a month earlier.
Developers' Shares
The Shanghai Stock Exchange Property Index, which tracks 24 developers listed, fell 1.4 percent as of 9:50 a.m., the biggest decline among five industry groups on the benchmark. Vanke, the nation's biggest developer by market value, fell 1.6 percent to 7.58 yuan in Shenzhen, while China Overseas Land & Investment Ltd., the country's biggest Hong Kong-listed developer, dropped 1.6 percent to HK$18.94.
Home sales fell 18 percent last month from March, the statistics bureau reported last week, and private data also showed the housing market is cooling. Prices climbed 9.1 percent in April, slowing for a fourth month, according to SouFun Holdings Ltd., the nation's biggest real estate website.
Relaxing Policies
At least six smaller Chinese cities have started relaxing local curbs on speculative and investment-driven home buying since April. The northern city of Zhengzhou in Henan province issued draft rules to promote home purchases by low-to-middle-income households, according to a statement posted on the government's website on May 7.
"We'll see more relaxation of policies in the coming months because local governments will have more incentive to do this as the market slides further," Ding Shuang, Hong Kong-based senior China economist at Citigroup Inc., said in a phone interview yesterday. He said that home-purchase restrictions should be relaxed to increase demand.
Prices were unchanged in 18 cities in April from a month earlier.
Accelerate Credit
New-home price gains in first-tier cities also slowed from a year earlier. Housing prices in Guangzhou and Shenzhen, in the southern province of Guangzhou, each rose 11 percent from a year earlier, and prices in Beijing jumped 8.9 percent. All three cities recorded the slowest pace since March last year.
"The only effective measure to ease the housing downturn is to reaccelerate, or at least stabilize, credit growth," Yao Wei, China economist at Societe Generale SA in Hong Kong, wrote in a May 13 report. "Clearly, policy makers know which lever to pull, but the question is to what extent."
The government should adopt a "measured and targeted credit easing" because a credit binge will inflate the industry again and deepen the oversupply in smaller cities, Yao said.
Data last week showed the nation's economic slowdown deepened, with unexpected decelerations in industrial-output and investment growth. Factory production rose 8.7 percent in April from a year earlier, down from 8.8 percent in March. Fixed-asset investment excluding rural households increased 17.3 percent in the first four months of the year, the slowest for the period since 2001.
Existing-home prices fell 0.2 percent in Beijing in April from March and were unchanged in Shanghai, according to yesterday's data. Beijing, Shanghai, the country's financial center, and the southern business hubs of Guangzhou and Shenzhen are considered first tier by the bureau of statistics.
"The government won't sit on the sidelines without intervening, otherwise the property industry would see a hard-landing," Everbright's Xu said. "Home-purchase restrictions will need to be relaxed and there is a high chance that the government will ease monetary policy."
To contact Bloomberg News staff for this story: Bonnie Cao in Shanghai at bcao4@bloomberg.net
To contact the editors responsible for this story: Andreea Papuc at apapuc1@bloomberg.net Iain McDonald