One Question: Your Best Finals Week Survival Tip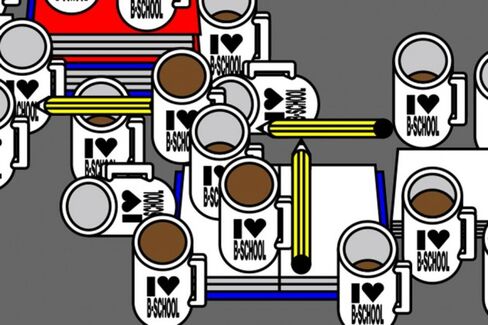 In our continuing series, we ask MBA students from all over the world one question to get at what the next generation of business leaders is thinking. This week we asked: What are your best tips for surviving finals?

"To survive finals I try to stick to my routine and avoid the temptation to work too late into the evening. In school, as well as athletics, I have always been a better distance runner than a sprinter. My routine is to try to stay ahead of exams so that I can avoid getting overwhelmed by the stress of finals. In addition, I try to find a good group so that I have a team of people to work with and stay motivated."
–Stephen Reddin, Ivey Business School, Western University
Honestly, finals aren't anymore stressful to me than the rest of the semester. In an odd way, I prefer it, because classes are over and all I have to worry about are finals – not like midterms where other courses may have assignments due, projects to work on, coupled with other extracurricular obligations. I prioritize the exams in order of importance to me and just chip away at studying. Nothing earth-shattering.
–Spencer Shih '15, Johnson Graduate School of Management, Cornell University

There are two things that I think are important. The first is studying with friends. Studying with friends who have expertise that I don't is a great way of improving my understanding of material while giving me a chance to teach them. The second is to just continue living your life. Studying with friends is fine, but after three hours, pack up the books, grab a case of beer and some pizza and enjoy the rest of the night with your buddies.
— Dominic Rasini, Simon Graduate School of Business, University of Rochester

I see every course during an MBA as a chance to build a relationship that could last the rest of your life. If you get too wrapped up in acing the final, you may not recognize the need to celebrate and solidify the relationships you've built during a tough semester. As classes come to a close, there are usually a few "reading days" prior to exams. This is a good time to meet up with classmates outside of school, learn what their plans are going forward, and celebrate 14 weeks of hard work together. On the last day of class (May 7), a group of students from the Strategic Marketing practicum at Johnson planned an afternoon of pickup basketball. I will probably remember the game more than what grade I get on the final.
— Sam Lambson '15, Johnson Graduate School of Management, Cornell University

The key to handling the work as we approach finals is to be organized. I have all my deadlines, meetings, exams etc. on my calendar on Outlook with appropriate reminders and specific task lists for each item. I try to work on multiple assignments/tasks simultaneously so I can get each one off the ground, rather than start one assignment and finish it before getting to the next. Eating well, staying hydrated and sleeping enough (usually >6 hours/night for me, along with a few catnaps) make a world of difference for me when it comes to being consistently focused and productive. I love to study with background music. I've recently discovered Songza, which has some fantastic stations that play music based on the time of day and genre preferences. I highly recommend it.
— Arnab Mukherjee '15, Johnson Graduate School of Management, Cornell University

Unlike many other MBA students, I have not given up a large amount of sleep. I prioritize my work and I have accepted the fact that some work will not get done – this is just a reality of the MBA program. Last week, we had a macroeconomics exam and I survived it by keeping on top of the daily work and reviewing [the material] casually over the last 3 days prior to the exam. There were many people that were stressed, but my approach is to keep calm and relax. After all, this is a once in a lifetime experience that will be over in a flash. You might as well enjoy it!
— Ryan Wong, Ivey Business School, Western University
Before it's here, it's on the Bloomberg Terminal.
LEARN MORE