Kenyan Market Explosions in Capital Kill at Least 10 People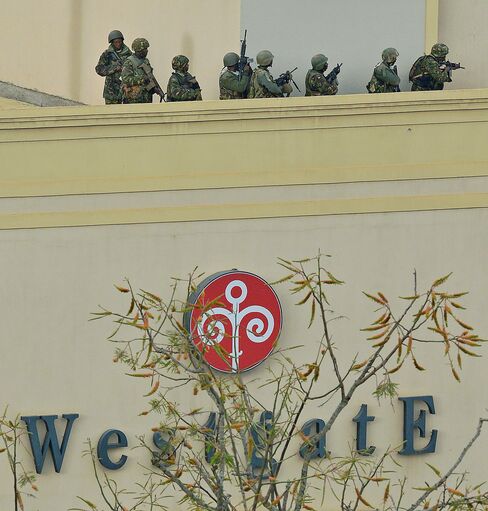 At least 10 people were killed and at least 70 were injured in two explosions at an open-air market in the Kenyan capital, Nairobi, the second series of bombings to hit the city this month.
One blast came from a 14-seater public-transport vehicle at Gikomba market, about 2 kilometers (1.4 miles) from the city center, the National Disaster Operations Centre said on its Twitter account. The second blast occurred within the market, it said, adding that one suspect has been arrested. The Kenya Red Cross issued an appeal for blood donations.
Kenya has faced a growing number of attacks since sending troops to fight Islamist militants in neighboring Somalia in October 2011. In September, an attack on Nairobi's Westgate mall killed at least 67 people. Al-Shabaab, a Somali militia affiliated with al-Qaeda, took responsibility for that attack, saying it was in revenge for Kenya's troop deployment.
The government "will do what it can" to combat attacks against the country, President Uhuru Kenyatta said at a televised press conference today in Nairobi. "I continue to urge my fellow citizens to join us in this particular battle and to ensure that we root it out from our midst."
Kenya is the world's largest exporter of black tea and the biggest economy in East Africa. Companies including Google Inc., International Business Machines Corp. and Toyota Motor Corp. have set up regional bases in the country. The government is preparing a debut sale of $1.5 billion of Eurobonds by the end of next month.
Shilling Weakens
Kenya's shilling extended its losses after the explosions, easing 0.2 percent to 87.55 per dollar by the close for a 0.5 percent decline this week. The FTSE NSE Kenya 25 Index erased its earlier gain and fell 0.3 percent, bringing its five-day loss to 1.5 percent.
"In the short term the sentiment for the shilling is negative" because of the spate of attacks, Bernard Matimu, chief dealer at NIC Bank Ltd., said by phone from Nairobi. The longer term impact "will depend how we deal with it and whether we remain solid as a country."
At least three people died and 82 more were injured on May 4 when bombs detonated on two buses traveling outside Nairobi's city center. A day earlier, twin explosions in the port city of Mombasa killed four people and injured at least 28.
TUI AG, the owner of Europe's largest tour operator, said today it's repatriating about 400 customers in Kenya to the U.K. and canceled all flights to Mombasa until Oct. 31.
The evacuations come after the U.K.'s Foreign and Commonwealth Office on May 14 advised against "all but essential travel" to Mombasa and surrounding areas because of threats to security in the area. The U.S., France, Australia, Canada and Sweden have issued similar advisories.
Tourist arrivals to the country fell to 1.4 million last year from 1.7 million in 2012. The tourism industry is the nation's second-biggest source of foreign-exchange, generating $1.1 billion in 2013.
Before it's here, it's on the Bloomberg Terminal.
LEARN MORE