Kraft Removes 'Steak' From A.1. Name, Hopes You'll Eat It With Everything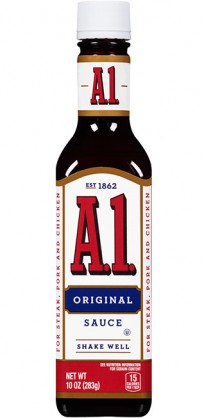 Just as Kentucky Fried Chicken switched to the meatless name "KFC" and Radio Shack momentarily thought about removing the outdated "radio" from its name and just going by "The Shack," Kraft's A.1. Steak Sauce will now simply be called "A.1. Sauce," the product's original name until the 1960s.
Perhaps the move will stimulate sales of the sauce again. U.S. sales of A.1. Sauce in 2013 were $132.4 million, down from $145.7 million in 2004, according to Euromonitor International. It's not the only packaged food brand trying to broaden its appeal by promoting new uses. Chobani, for instance, is marketing Greek yogurt not only as a breakfast food but also as a cream cheese substitute and as a cooking ingredient.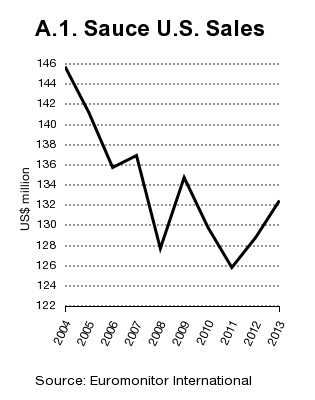 The word "steak" was holding A.1. back, the company claims, so it's setting the sauce free so consumers can douse it on everything from salmon, to fish tacos, to meatballs, crab legs, corn on the cob, green beans, turkey sandwiches, tofu, lobster, meatloaf, bacon, and chicken nuggets, as this sappy new marketing video about A.1. breaking up with steak shows (one viewer commented that it's "sadder than The Notebook").
Kraft's recipe site had already tried promoting the use of A.1. sauce in such dishes as red snapper and vegetable stir fry. The company also launched a line of A.1. marinades and dry rubs. But apparently these moves were not enough. "Eating habits have undergone a big transformation, and A.1. is changing with them," said Cindy Halvorsen, A1′s brand manager at Kraft Foods, in a press release. Who know, maybe marketers can even persuade you to try it with Greek yogurt, too.
http://www.youtube.com/embed/I2XFglTo6bg
Before it's here, it's on the Bloomberg Terminal.
LEARN MORE