Hurricanes Inch Poleward: Today's Pic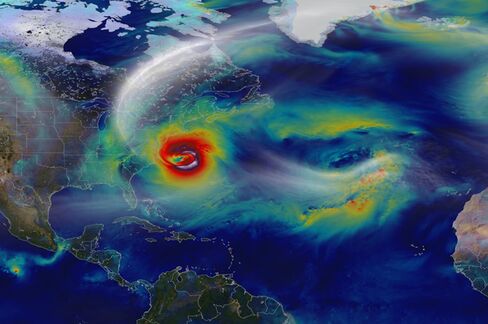 An important new study on hurricanes starts with throat clearing that sounds a little bit like this when translated from the scientific hemming and hawing: I am so sorry. We're having some difficulty here with confidence in the data. Unless… But no… You wouldn't want to consider…
The paper then proposes a new way to look at hurricanes that's less limited by data quality and availability. What it shows is that tropical storms are reaching their peak intensities farther from the equator, by about 33 miles and 39 miles a decade in the Northern and Southern hemispheres. The North Atlantic is an exception to the global pattern, despite Hurricane Sandy's landfall at 39 degrees north latitude, south of Atlantic City [Click here for a model of Sandy's path].
The future of hurricanes in a changing climate is notoriously challenging to project. Good data go back only to the late 1970s, when weather satellites first launched. While there's consensus that global warming may reduce the frequency of cyclones, those that spin into being may be expected to pack quite a punch.
The new study attributes the poleward shift in maximum intensity to two main factors. The scientists see a shrinking difference in wind speeds at higher and lower elevations. They also see a higher "potential intensity" of storms, which is a function of sea-surface and air temperatures, and humidity.
The results, they write, are compatible with previous research showing that the tropics are expanding north and south, for reasons that "are at present uncertain but are generally thought to have" manmade contributions.
More by Eric Roston (@eroston on Twitter):
Visit www.bloomberg.com/sustainability for the latest from Bloomberg News about energy, natural resources and global business.