Euro Five-Year Swap Rich Versus Butterfly on ECB Cut Speculation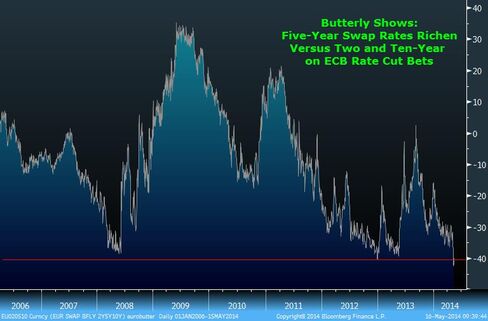 Five-year euro interest-rate swaps are outperforming surrounding maturities as the debt proves to be the focal point of rising investor expectations for further European Central Bank stimulus.
An index tracking how well the five-year euro-denominated interest-rate swap is performing against two- and 10-year maturities on May 14 reached negative 42.4 basis points, or the smallest since at least 2006. That's as far back as Bloomberg tracks the data. The butterfly, as the measure is known, when negative is a signal that investors are more bullish on the middle of the three maturities, making it relatively expensive versus the others. The measure was flat as recently as September.
"The five-years in Europe are particularly rich relative to the wings on the expectations that the ECB will ease next month and over the coming months," said Ciaran O'Hagan, head of European rates strategy at Societe General SA in Paris. "Fives will likely continue to outperform the two- and 10-year notes up until the ECB meeting in June. So for the time being, you want to stick with the flow."
With the euro area's recovery from a record-long slump still patchy, policy makers are seeking to revive growth and inflation. ECB President Mario Draghi on May 8 prepared investors for further stimulus in June, saying the 24-member Governing Council is "comfortable with acting" next month.
Swap Rates
The euro-area recovery failed to gather momentum last quarter, as France unexpectedly stalled and economies from Italy to the Netherlands shrank. Growth of just 0.2 percent for the currency bloc, half as much as economists had forecast, added to pressure on the ECB to deliver monetary easing measures next month. While German expansion doubled to 0.8 percent, that wasn't enough to offset renewed weakness across the region, including a 0.7 percent drop in Portugal.
Interest-rate swaps allow investors to exchange fixed for floating-rate payments streams over a pre-set time period. Swap rates have traditionally been higher than government debt yields in part because the floating payments are based on interest rates that contain credit risk.
Before it's here, it's on the Bloomberg Terminal.
LEARN MORE