Congress Rout Threatens Gandhi Dynasty's Hold on Politics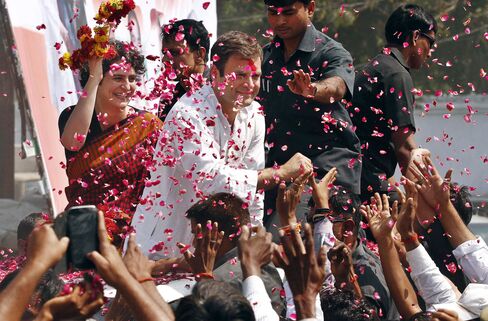 May 17 (Bloomberg) -- For several hours yesterday it looked like Rahul Gandhi might lose his parliamentary seat in Uttar Pradesh. As the vote count in India's election stretched into the afternoon, he edged ahead, but the message was clear: The Gandhi dynasty that has dominated Indian politics since independence had lost its allure.
The 43-year-old heir to India's most famous political family, who was running in the Amethi constituency once held by his uncle, father and mother, held a lead of about 100,000 votes, down from a victory margin of 370,000 five years ago. It was symptomatic of the Congress party's decimation across the country, as it was heading for 44 seats, its lowest tally ever, after winning 206 last time.
"This is the end of the Gandhi family and its hold over Indian politics," said B.G. Verghese, a visiting professor at the Centre for Policy Research and a former aide to late prime minister Indira Gandhi. "It is not that Congress will disappear. It will have to reinvent itself, it can no longer trade on the family name. The family name has become a bit of a liability."
Gandhi, who headed the party's election campaign, has been a reluctant politician, with Congress announcing in January that he wouldn't be its candidate for prime minister. In fact, he has shown little appetite for the cut and thrust of Indian politics, rarely speaking in legislative debates in parliament and missing more than half of the sittings in the past five years, according to PRS Legislative Research, a research group that tracks parliament.
'Pretty Badly'
In a 30-second statement at the party headquarters yesterday Rahul Gandhi smiled and congratulated the opposition Bharatiya Janata Party on the biggest Indian election victory in 30 years. His mother and party president Sonia Gandhi stood at his side.
"The Congress party has done pretty badly," Rahul Gandhi said. "There's a lot to think about and as vice president of the party I hold myself responsible." He then stepped aside without taking questions from reporters and his mother took the microphone.
The extent of Congress' failure was evident in Uttar Pradesh, a state that the party once dominated. It was on course to win two of the 80 seats up for grabs, down from 21 last time.
Six ministers from the party were heading for defeat in their constituencies in Uttar Pradesh. And Congress failed to win any seats in 11 of India's 28 states, according to provisional results.
'Benevolent Prince'
The Congress party office in New Delhi was largely deserted yesterday. Police and reporters outnumbered party supporters.
"Rahul's problem doesn't look like he is someone who is that interested in politics," said A.S. Narang, who teaches political science at New Delhi-based Indira Gandhi National Open University. "Rahul wanders around like a benevolent prince."
Gandhi's office didn't respond to a call seeking comment.
Rahul Gandhi's family has been at the center of Indian politics for more than six decades. Jawaharlal Nehru, Rahul's great-grandfather and independence movement hero, became the country's first prime minister. He was followed by his daughter Indira Gandhi and her son Rajiv Gandhi, Rahul's father. Both were assassinated, drawing comparisons with the Kennedy family.
During the campaign, opposition parties ridiculed Congress's reliance on the family. At rallies, Narendra Modi, who heads the alliance that won the election, urged voters to prevent the country from being "run on the whims of a prince" and contrasted his past as the son of a tea seller with Rahul's privileged upbringing.
Shielding Gandhi
Despite the scale of the defeat, Congress isn't ready to jettison the Gandhi family, which serves as the glue for the party and its supporters, said Pradeep Taneja, who lectures on Asian politics at the University of Melbourne.
"It's too early to write off the dynasty," he said. "The Congress party is already saying it is not Rahul and Sonia Gandhi's fault. The Congress party without the dynasty would be unsure of how to proceed."
Congress leaders moved to shield the Gandhi family from blame for the election rout, saying that any failure was collective.
"We're all responsible and no individual should be blamed," said Rajeev Shukla, a senior Congress leader. "We will introspect, rectify ourselves and bounce back."
Verghese said the public will reject efforts to shift the blame away from the Gandhis.
"People won't accept this kind of humbug," he said. The result "is a landmark because it signals the end of the old Congress and its leadership, and it reflects the upsurge of the new younger voter and the emphasis on jobs, opportunities, rather than trading on the past," he said.
To contact the reporters on this story: Bibhudatta Pradhan in New Delhi at bpradhan@bloomberg.net; Andrew MacAskill in New Delhi at amacaskill@bloomberg.net
To contact the editors responsible for this story: Daniel Ten Kate at dtenkate@bloomberg.net Peter Hirschberg, Dick Schumacher, Indranil Ghosh