Betty Sherrill, Interior Design Doyenne of NYC, Dies at 91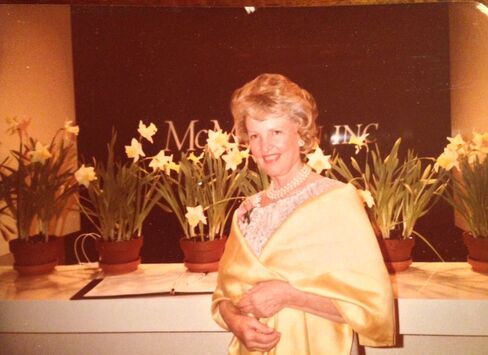 Betty Sherrill, the doyenne of Manhattan interior designers who for more than four decades led the prominent New York design firm McMillen Inc., has died. She was 91.
She died on May 12 at her home on Manhattan's East Side, her grandson, John Pyne, said. The cause was pancreatic cancer.
As McMillen president starting in 1972, and later chairman, Sherrill oversaw interior design for a roster of clients that included titans of industry, celebrities and families of wealth. Among them were Laurance and Mary Rockefeller, CBS Inc. Chairman William S. Paley, singer Diana Ross and Alice Walton, billionaire daughter of Wal-Mart Stores Inc. founder Sam Walton.
Petite and with a southern drawl from her New Orleans upbringing, Sherrill cut both an imposing and charming figure in New York society.
She was a longtime resident of 1 Sutton Place South, a co-operative apartment built in 1927 with views of the East River. As chairman of the co-op board, Sherrill acted as a social gatekeeper at the building that has been the home of designer Bill Blass and socialite C.Z. Guest. Sherrill also had residences in Hobe Sound, Florida, and Southampton, New York, where she planted 40,000 daffodils.
Firm's Beginning
McMillen, described by Architectural Digest as the oldest U.S. interior design company, was founded in 1924 by Eleanor McMillen Brown. Her firm's work soon became fashionable among New York's elites.
Sherrill arrived in the city in 1952 as a recently married and lightly schooled former design student.
Her first job was opening the door and passing out pamphlets for McMillen's "Paris '52" exhibit of contemporary postwar designers.
"She used to say, 'I got my foot in the door and I never took it out,'" Sherrill's granddaughter, Elizabeth Pyne, said in a telephone interview. Pyne is the third generation of Sherrill women to work at McMillen, where her mother, Ann Pyne is president.
Ann Pyne, writing in an e-mailed tribute, characterized her mother's style as "Wasp chic, though not the shabby side of it," with special touches including animal prints, bay windows and Portuguese needlepoint rugs.
Fine French furniture -- "FFF" in Sherrill's shorthand -- continued to be the foundation of the firm, Sherrill told HG magazine in 1992. She retired as McMillen president in 2002.
Chief Executive
Among the highlights of her career was helping decorate the White House living quarters for President Lyndon Johnson and his wife, Lady Bird Johnson.
Betty Stevens Sherrill was born on April 18, 1923, in New Orleans, the daughter of William Lewis Stevens, an architect and engineer and a close associate of Louisiana Governor Huey P. Long. Her mother, Sybil Wilkinson Stevens, was a descendent of Betty Washington Lewis, sister of George Washington.
Sherrill attended private schools before dropping out of Newcomb College in New Orleans, now part of Tulane University. She took up competitive sailing, according to the tribute by Ann Pyne.
In 1949 she married H. Virgil Sherrill, a banker who served as president of Bache Halsey Stuart Inc., vice chairman of a successor firm, Prudential-Bache Securities Inc., and chairman of the Securities Industry Association.
Still chairman of McMillen at the time of her death, Sherrill was inducted into the Interior Design Hall of Fame in 1989 and received the Parsons Centurion Award for Design Excellence in 2006. The New York School of Interior Design granted her an honorary doctorate degree in 2013.
In addition to her daughter, Ann Pyne; grandson, John Pyne; and granddaughter, Elizabeth Pyne, Sherrill's survivors include a son, Stephen Sherrill, and three other grandchildren. Her husband died in 2010.
(An earlier version of this story corrected the period of Sherrill's leadership at McMillen.)
Before it's here, it's on the Bloomberg Terminal.
LEARN MORE