Taiwan Plans $400 Million Startup Fund to Drive Post-PC Tech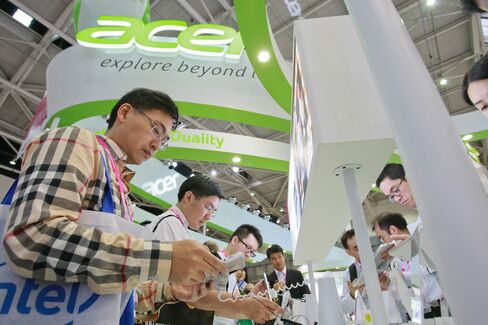 Taiwan will open a fund with about $400 million to invest in startups to diversify the economy as its computer and electronic industries struggle amid greater competition.
The government will choose teams of adviser and managers to select projects and work with venture capital companies, Kuan Chung-ming, minister of Taiwan's National Development Council, said in an interview in Taipei yesterday. Taiwan's Cabinet has already approved the funds, he said.
Taiwan's computer and electronics exporters faltered in recent years because they didn't develop enough of the technologies used in smartphones and tablets that have defined the post-PC era, according to Kuan. The startups would be housed in an "incubator cluster" under development in Taipei, he said.
"We have a goal to encourage those startups to scale up," Kuan said. "'If you are in the cluster, at most you have two years before you have to go'' either because the business failed, or has grown bigger, he said.
Internet companies are more likely to receive funding than coffee shops, with a focus on proposals that have the potential to be very big, offer unique business models or change people's lifestyles, he said.
Taiwan's National Development Fund would match money raised from outside venture capital companies, with a goal of luring foreign VCs to Taiwan. The fund would cap its stake in any startup at 40 percent, in line with laws curbing government ownership of corporations, he said.
The National Development Council is the Cabinet's economic planning ministry. It was formed this year in a merger that included the former Council for Economic Planning and Development, and the Research Evaluation and Development Commission.
In addition, the NDC is pushing to amend laws seen as discouraging startups from operating in Taiwan. Many have moved to Singapore or registered in the Cayman Islands, he said.