Singapore Home Sales Rise to 5-Month High on More Project Sales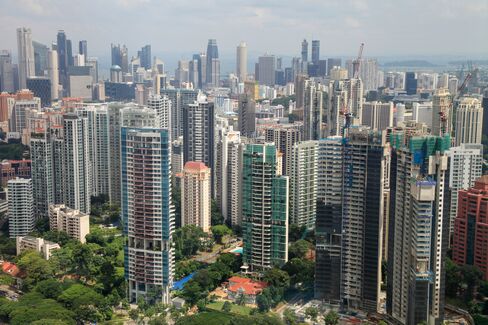 May 15 (Bloomberg) -- Singapore's April home sales rose to the highest in five months as developers marketed new projects amid declining home prices, a government report showed.
Home sales rose to 745 units last month, the highest since 1,271 in November, according to data from the Urban Redevelopment Authority released today. They rose 55 percent from March, while declining 46 percent from the same month a year earlier, the data showed.
Sales picked up in Asia's second-most expensive housing market last month as developers managed to sell more than the 586 units marketed as homebuyers took advantage of falling prices after property curbs. Singapore's first-quarter home prices slid for a second consecutive quarter as tighter mortgages cooled demand, data released by the URA on April 25 showed. The government introduced loan measures almost a year ago as it widened a campaign that started in 2009 to curb speculation in the Southeast Asian city.
"It's an improvement as developers sold more units than they launched last month," said Nicholas Mak, an executive director at SLP International Property Consultants in Singapore. "That's a good sign because it shows they are cutting their inventory of unsold units."
MCL, Allgreen
Among the developers that began sales of their projects was MCL Land (Prestige) Pte, which sold 210 of 230 units marketed at its Lakeville project in the west of the city-state, according to the URA. Allgreen Properties Ltd. started marketing its condominium project in the west, selling 125 of 131 units marketed, the data showed.
Under the loan framework, lenders must consider a borrower's debt when granting mortgages, the Monetary Authority of Singapore said last June. Home loans should not lead to a borrower's total debt-servicing ratio rising above 60 percent and those that do will be considered imprudent, it said.
Mortgage loan growth at 7.9 percent in March was the slowest pace since June 2007, data compiled by Bloomberg based on central bank figures showed.
Singapore was the most-expensive city to buy a luxury home in Asia after Hong Kong, property broker Knight Frank LLP said in a wealth report last month.
To contact the reporter on this story: Pooja Thakur in Singapore at pthakur@bloomberg.net
To contact the editors responsible for this story: Andreea Papuc at apapuc1@bloomberg.net Tomoko Yamazaki, Iain McDonald