Jobless Claims in U.S. Reach Lowest Level in Seven Years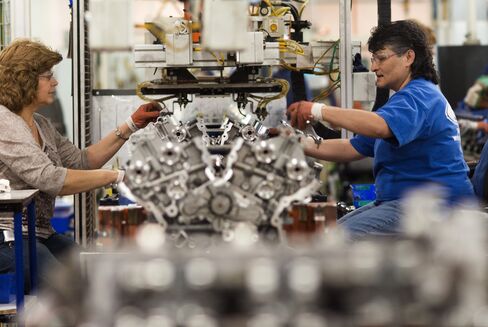 May 15 (Bloomberg) -- The fewest Americans in seven years filed applications for unemployment benefits and consumer prices rose by the most in 10 months, adding to signs the economy is gaining momentum.
Jobless claims dropped by 24,000 to 297,000 in the week ended May 10, less than any economist projected in a Bloomberg survey and the least since May 2007, figures from the Labor Department showed today in Washington. The consumer price index increased 0.3 percent in April, the biggest advance since June, after rising 0.2 percent the prior month.
"The way the job market continues to improve, the number of people collecting benefits keeps going down," said Brian Jones, senior U.S. economist at Societe Generale in New York. "The labor market is fine." Jones had the lowest forecast in the Bloomberg survey, at 303,000.
While firings have been slowing, many companies are proceeding with caution on hiring until they see a sustained pickup in consumer spending. Stocks declined after a separate report today showed industrial production fell unexpectedly in April.
The Standard & Poor's 500 Index dropped 1 percent to 1,869.02 at 10:14 a.m. in New York. The yield on the 10-year Treasury note fell seven basis points to 2.47 percent.
Output at factories, mines and utilities decreased 0.6 percent after a 0.9 percent gain the prior month that was larger than previously reported, figures from the Federal Reserve showed. The median forecast in a Bloomberg survey of 81 economists called for an unchanged reading. Manufacturing, which makes up 75 percent of total production, decreased 0.4 percent.
Claims Forecasts
Economists surveyed by Bloomberg forecast 320,000 unemployment claims, according to the median estimate. The prior week's reading was revised to 321,000 from an originally reported 319,000.
The four-week average of claims, a less-volatile measure than the weekly figure, dropped to 323,250 from 325,250 the week before.
The number of people continuing to collect benefits declined by 9,000 to 2.67 million in the week ended May 3, the fewest since December 2007.
The unemployment rate among people eligible for benefits held at 2 percent in the week ended May 3.
Employers added 288,000 jobs last month, the biggest increase in payrolls since January 2012, the Labor Department reported May 2. Among them were automakers, which are expanding operations amid rising sales.
Chrysler Hiring
Chrysler Group LLC has hired 250 workers at its new factory in Tipton, Indiana, where it will make transmissions for Jeep Cherokees and Chrysler 200 sedans. The carmaker, based in Auburn Hills, Michigan, expects to employ 600 workers at the site by the end of this year and 850 in 2015.
While automakers enjoy a recovery in sales, some retailers are reporting weak demand. Although the industry reported a 6.2 percent increase in sales in April from a year earlier, its biggest monthly gain since 2011, many merchants have been discounting aggressively. Some, including teen apparel chain Aeropostale Inc. and Elizabeth Arden Inc., are cutting workers as they shutter stores.
Cosmetics maker Elizabeth Arden suffered from sluggish demand in the first quarter, when an "unprecedented number" of stores were forced to close, Chief Executive Officer E. Scott Beattie said.
To contact the reporters on this story: Lorraine Woellert in Washington at lwoellert@bloomberg.net; Victoria Stilwell in Washington at vstilwell1@bloomberg.net Chris Wellisz