India Traders Watching Polls With $332 Billion at Stake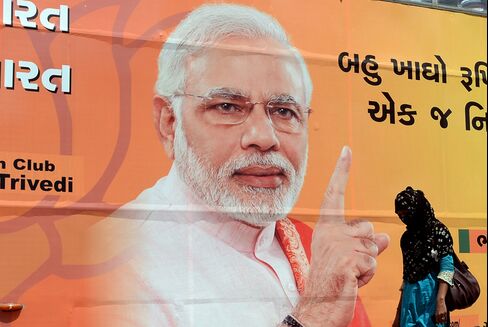 India's stock-market bulls have a lot riding on today's election results.
The value of Indian equities has climbed by $332 billion since the main opposition Bharatiya Janata Party named Narendra Modi as its candidate for prime minister on Sept. 13, while the benchmark S&P BSE Sensex index rose 21 percent to an all-time high through yesterday. Foreign investors poured $14.2 billion into the nation's shares during the period, and bullish wagers in the options market outnumber bearish bets by the widest margin in 14 months.
Investors betting Modi will do more than the ruling Congress Party to revive economic growth will find out today if his alliance won enough seats in parliament to form a majority government in the world's largest democracy. The Sensex swung by an average 14 percent in the two days following the results of the last three elections, as final vote counts surprised the market, data compiled by Bloomberg show.
"This election is all about going long," Supreeth Shankarghal, the chief executive officer at Quant First Asset Advisors India Ltd. in Bangalore, which manages about $100 million in options, said in an e-mail interview. "Most bets are on the bullish side on optimism over a BJP victory."
The number of outstanding call options on India's 50-stock CNX Nifty Index climbed yesterday to 1.35 times put contracts, which give the right to sell. That's the highest level since Feb. 28, 2013, data compiled by Bloomberg show.
Trader Euphoria
The Sensex advanced as much as 6.1 percent to a record 25,353.16 as of 9:52 a.m. in Mumbai, as early vote counting signaled a lead for the BJP.
The Sensex climbed 13 percent in 2014 through yesterday, outperforming benchmark indexes in Brazil, Russia and China, while the rupee has strengthened 4.2 percent against the dollar. Inflows from overseas into India's $1.3 trillion stock market this year are the highest among eight countries in Asia tracked by Bloomberg.
Proponents see Modi, who oversaw annual economic growth of 10 percent as the head of Gujarat state since 2001, as a leader who can speed up infrastructure projects, while opponents blame him for 2002 riots that killed about 1,000 people, mostly Muslims. Modi rejects accusations of any wrongdoing.
The National Democratic Alliance, led by the BJP, is set to win 279 of the 543 parliamentary seats, according to an exit poll released May 14 by NDTV television channel and Hansa Research. Six surveys on May 12 showed the alliance winning 249 to 340 seats, with 272 needed for majority.
"The market is positioned for euphoria," Chetan Jain, a derivatives analyst at Anand Rathi Financial Services Ltd. in Mumbai, said in a phone interview. "But it can go all the way down to the wire."
Before it's here, it's on the Bloomberg Terminal.
LEARN MORE