How Wal-Mart's Winter Hangover Helped Its Small-Box Strategy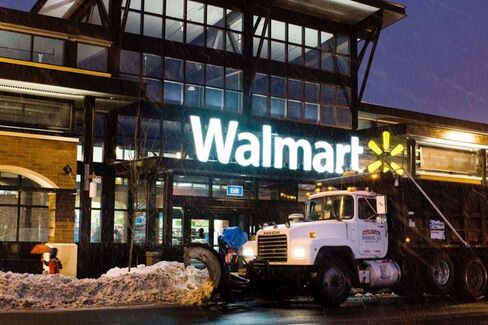 Wal-Mart Stores delivered some decidedly ugly financial results Thursday morning, with static sales and fading foot traffic. The retail giant blamed severe winter weather, which seems as likely a rationale as anything.
Wal-Mart executives are watching the value of their stock options swoon on the news, but in the long run, fallout from the polar vortex might have done them a favor. It basically validated the company's two main strategic initiatives of late: e-commerce and small, urban stores. While in-store foot traffic dropped 1.3 percent, online revenue surged 27 percent over the year-earlier period—perhaps with a boost from all those snowbound shoppers.
And sales at Wal-Mart's so-called Neighborhood stores, which tend to be located in urban areas less dependent on driving, increased 5 percent. The slice of revenue from the citified stores has nearly doubled over the past two years. Wal-Mart now has 400 of the small-format locations, which are about one-fifth the size of the company's 3,300 "supercenters" in the U.S.
The online and urban strategies are part Amazon.com, part bodega. Doug McMillon, Wal-Mart's chief executive, described it this morning as "serving customers wherever and however they want to shop." And honestly, a significant number of shoppers probably won't much miss the traditional Wal-Mart shopping experience.
Across the company, sales ticked up only slightly, to $115 billion, while its profit slid 5 percent, to $3.6 billion. Had it not been for all the snowstorms, Wal-Mart said it would have made an extra $98 million in profit. The vortex giveth, and the vortex taketh away.
Before it's here, it's on the Bloomberg Terminal.
LEARN MORE