A Country Club Where the Sun Never Shines
A conditioning gym for golfers draws a Wall Street crowd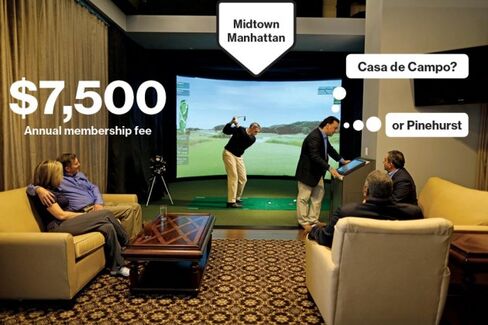 After spending almost three decades on his feet as a commodities trader at the New York Mercantile Exchange, Tom Schiff suffered so much back pain that he was set to give up golf in 2009. Following months of rehabilitation and therapy, he was able to return to the sport he took up when he was 10 years old. The turnaround inspired him to start Golf & Body NYC, a gym in Midtown Manhattan that Schiff likes to call a country club.
The year-old facility draws most of its 130 members from the financial industry, although there are a few celebrities in the mix, including Tonight Show host Jimmy Fallon. The 25,000-square-foot space sits in the shadow of the Empire State Building, but once golfers get off the elevator on the third floor, they can pretend they're at Casa de Campo in the Dominican Republic or California's Pebble Beach, 2 of the 30 courses featured in seven high-definition video golf simulators. The hitting bays, some of which are surrounded by plush sofas and chairs, are equipped with TrackMan golf radar and video analysis software to help players improve their swing. There are also three putting and chipping greens.
The club's "body team" includes performance coaches, a chiropractor, a physical therapist, trainers, and a yoga instructor. Acupuncture and massage are available. Darrell Kestner, who has played in one of the sport's four major championships in five different decades, spanning the 1979 U.S. Open to the 2012 PGA Championship, is around to coach members on their swing. "It's professionals really understanding your body, because everybody's different, and your specific golf swing, and then bringing it all together," Schiff says. "That's what we do."
Golf & Body isn't for everyone. There's a $5,000 initiation fee, and yearly dues are $7,500. As its website points out, membership is limited. But once admitted, golfers can, as the club's slogan goes, "Live the game." They can entertain clients and lounge in the cafe, which serves smoothies, protein drinks, and stronger stuff as well.
"If there were such a thing as an Olympic training golf facility indoors, you'd be hard-pressed to think it would be much different," says member George Zahringer, 61, a managing director at Deutsche Bank's Private Wealth Management USA who played in the 2003 Masters Tournament and is the reigning British Senior Amateur champion. "To have that allows me to hit the ground running in the spring."
Schiff, 53, opened the first Golf & Body near his home on Long Island in 2009 before deciding to open a Manhattan branch. He was an equity holder in the New York Mercantile Exchange when it went public in 2009 and used his own savings as startup capital. He declined to talk about financials but says he's doing well enough to be considering opening outposts in Washington, Miami, and San Francisco.
Manhattan is already home to another golf conditioning gym, Drive 495 in SoHo, which charges from $189 to $299 per month. To differentiate itself, Golf & Body stresses its country club atmosphere. In March, as the U.S. PGA Tour's Arnold Palmer Invitational was played at Bay Hill Golf Club & Lodge in Orlando, Schiff's gym held its own tournament on a simulated version of the course. Members can also test new golf clubs at product launches.
Schiff estimates that he once played as many as 100 rounds of business golf a year. Now he tries to keep fit so he can play with his family. He recently enjoyed several outings with his 74-year-old mother, Judi Silver, a money manager for Wells Fargo who plays several times a week and has eight career holes in one. "There was a time I was just praying for a day I wasn't in pain, let alone thinking about playing golf," Schiff says. "What this has enabled me to do is personal. My mother, grandmother, and my kids, so much time has been spent on a golf course together. I would have missed that."
Before it's here, it's on the Bloomberg Terminal.
LEARN MORE