Wholesale Prices in U.S. Climb by Most in More Than a Year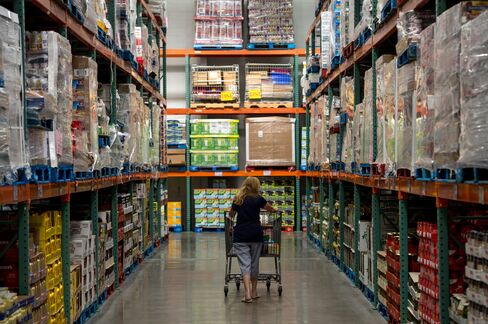 Prices paid to American factories and service producers rose in April by the most in more than a year, indicating a diminishing risk of deflation as demand improves.
The 0.6 percent increase in the producer price index was the biggest since September 2012 and exceeded all estimates in a Bloomberg survey of economists, figures from the Labor Department showed today. Over the past 12 months, costs climbed 2.1 percent. Food prices surged by the most in three years.
The gain in April was broad-based -- from goods such as poultry and trucks to services like transportation -- and indicates a rebound in pricing power could be taking shape as the world economy improves. Rising costs will probably ease concern among some Federal Reserve policy makers who have said they want inflation to increase closer to their 2 percent goal.
The "trend is not threatening as long as it's gradual and remains below central bank targets," said Markus Schomer, chief economist at Pinebridge Investments LLC in New York, whose forecast for the PPI was among the highest in the Bloomberg survey. "The path from higher producer prices to higher consumer prices usually takes a little while."
Stocks fell after benchmark indexes closed at all-time highs for a second straight day as investors assess earnings. The Standard & Poor's 500 Index dropped 0.2 percent to 1,893.89 at 2:31 p.m. in New York as investors assessed earnings.
Survey Results
The April PPI increase followed a 0.5 percent gain the prior month. The median estimate in a Bloomberg survey of 69 economists called for an advance of 0.2 percent. Forecasts ranged from a drop of 0.2 percent to a 0.5 percent gain.
The advance from the same month a year before was the biggest since March 2012 and followed a 1.4 percent rise in the year to March.
Former Federal Reserve Chairman Alan Greenspan today said that it's a mistake to believe that inflation isn't a threat, though he doesn't see an imminent rise in prices.
The increase in producer prices "came in as a big surprise," Greenspan said at a forum organized by the Peter G. Peterson Foundation. "Now, I'm not forecasting that inflation is about to run. I doubt it very much. But the presumption that it's no longer on the horizon I think is a mistake."
Wholesale food expenses increased 2.7 percent in April, the biggest jump since February 2011, led by an 8.4 percent surge in the costs of meats that was the biggest since 2003. A confluence of events ranging from drought in the West to porcine epidemic diarrhea is pushing up prices for beef, pork and other foods.
Meat Prices
At Greeley, Colorado-based Pilgrim's Pride Corp., "chicken remains the most competitively priced protein, especially when compared to the surging prices and lack of availability for other meats," Chief Executive Officer William Lovette said in a May 1 earnings call. "The supply cycle for all three major proteins is strained now and we anticipate this will continue until mid-2015."
Energy costs increased 0.1 percent last month after a 1.2 percent decline in March.
The so-called core measure, which strips out volatile food and fuel, increased 0.5 percent after rising 0.6 percent in March. It was projected to rise 0.2 percent, the survey median showed. The back-to-back gain in the core PPI was the biggest since comparable records began in 2010.
The cost of services increased 0.6 percent in April, reflecting higher profit margins at clothing retailers and rising airline fares.
Trucks, Ethanol
Prices for goods also climbed 0.6 percent last month, paced by light trucks and a record jump in ethanol.
Producer prices for finished products related to consumer spending increased 0.7 percent in April after rising 0.6 percent the month before. The selling prices received by businesses for goods and services going toward consumption represent about 68 percent of the revamped PPI, which help to provide insight into longer-term changes in the CPI.
Rising costs at the producer level don't always translate into higher consumer prices, partly because materials make up a small portion of the final cost of goods sold, according to Neil Dutta, head of U.S. economics at Renaissance Macro Research in New York.
"Producer prices have a fairly spotty record of tracking consumer prices because there tends to be slippage along the supply chain," he said in a note to clients.
Some of that slippage may indicate corporate profit margins may suffer as companies find it difficult to pass along higher input costs to customers.
Other Gauges
Producer prices are one of three monthly inflation gauges from the Labor Department. The consumer price index, the broadest of the three measures, may have climbed 0.3 percent in April, according to the Bloomberg survey median.
"I don't expect to see anything like that in the CPI number tomorrow," said Pinebridge's Schomer. "The more immediate effect of this will be on second-quarter corporate profits."
While cheaper goods and services can be good news for consumers, disinflation makes it harder for borrowers to pay off debts and businesses to boost profits. The greater danger comes when a slowdown in inflation turns into deflation, which leads households to delay purchases in anticipation of even lower prices and companies to postpone investment and hiring as demand for their products dries up.
Central bankers so far have argued that the shortfall in inflation is temporary.
Fed's View
Fed officials led by Chair Janet Yellen repeated at their last meeting that long-term inflation expectations remain stable. The central bank's preferred gauge of consumer prices climbed 1.1 percent in the year through March and hasn't exceeded the Fed's 2 percent goal since March 2012.
The Fed's Open Market Committee pared its monthly asset-buying to $45 billion, its fourth straight $10 billion cut, and said further reductions in "measured steps" are likely.
The PPI report this year expanded to measure 75 percent of the economy, compared to about a third for the old metric, which tallied the costs of goods alone. Following its first major overhaul since 1978, PPI now measures prices received for services, government purchases, exports and construction.