Ukraine Seeks Order Ensuring Russian Gas During Arbitration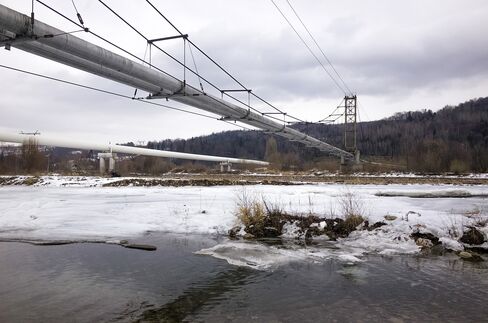 May 14 (Bloomberg) -- Ukraine will ask a Stockholm court to require Russia to continue natural gas supplies during arbitration as a June payment deadline looms.
Talks between Kiev and Moscow on the gas price have stalled and can only be resolved in arbitration that may start after May 28, Ukrainian Finance Minister Oleksandr Shlapak said in an interview in Brussels. OAO Gazprom, Russia's monopoly pipeline-gas exporter, sent Ukraine a bill yesterday for an estimated $1.7 billion of supplies the country may import next month, saying it will cut off flows if no money is received by June 2.
"We'll insist both sides must fulfill their obligations in good faith, as a precautionary measure," Shlapak said of the arbitration case Ukraine is filing. "We will ship gas to Europe as set out in the transit contract. If you please, deliver gas to Ukraine and don't break the contract. This is how we'll ask the arbitration court to approach the issue."
Ukraine depends on Russia for about half of its gas and also is a key transit point for Russian supplies bound for the European Union. Pipelines crossing Ukraine carry Russian gas equating to about 15 percent of annual EU use of the fuel.
"The situation has reached a dead end from the point of view of negotiations," Shlapak said in the interview late yesterday. He rejected the gas price Russia has demanded since April, saying an increase was politically motivated.
Past Supplies
Arbitration is necessary because the government in Kiev refuses to make advance payments at the higher price, while Russia says it will decline to discuss a price reduction until a debt for previous supplies is paid off, according to Shlapak.
Russia is willing to discuss new terms for Ukraine if Kiev partially pays down its debt, Russian Prime Minister Dmitry Medvedev told reporters today near Moscow.
"If they pay part of it, that would at least be a basis for negotiations," he said. "We're probably even ready to impinge on our interests."
Ukraine's June bill was based on average deliveries of 114 million cubic meters a day at the second-quarter price of $485 for 1,000 cubic meters, Sergei Kupriyanov, a spokesman for Gazprom in Moscow, said yesterday.
The government in Kiev is seeking to revert to the price it paid for gas in the first quarter of $268.50 for 1,000 cubic meters. Ukraine will pay its debt within 10 days if a new agreement is signed based on the first-quarter price, Prime Minister Arseniy Yatsenyuk said yesterday.
Gazprom claims Ukraine owes $3.51 billion in overdue payments for fuel delivered in 2013 and through April of this year. Ukraine's state oil and gas company, NAK Naftogaz Ukrainy, doesn't recognize the full debt. Kiev doesn't dispute it owes $2.2 billion for gas supplied through March, before the price increase, according to Shlapak.
"Russia has a fairly uncompromising position: Pay the debt and then we can talk," he said. "So what is there to talk about?"
To contact the reporters on this story: Patrick Henry in Brussels at phenry8@bloomberg.net; Jake Rudnitsky in Moscow at jrudnitsky@bloomberg.net; Elena Mazneva in Moscow at emazneva@bloomberg.net
To contact the editors responsible for this story: Alaric Nightingale at anightingal1@bloomberg.net Dan Weeks, James Herron