Magic Johnson Shuns 'Stone Ages' Attacks by Donald Sterling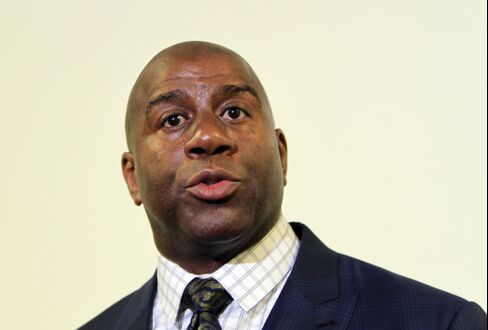 Hall of Fame basketball player Earvin "Magic" Johnson said racist remarks and personal attacks show Los Angeles Clippers owner Donald Sterling "is living in the Stone Ages" and predicted the real-estate billionaire "can't buy his way out of this one."
Johnson, 54, who led the Los Angeles Lakers to five National Basketball Association championships in the 1980s and is now a part owner of baseball's Los Angeles Dodgers, said he forgives Sterling and is praying for him while remaining confident the NBA will force a change in Clippers ownership.
Johnson defended himself against Sterling's verbal attacks, including his accusations that Johnson does little for the minority community and that the three-time NBA Most Valuable Player -- who retired from the Lakers in 1991 after testing positive for the HIV virus -- is not a good role model.
"Here is a man who we would think would be educated and a man who is smart enough to build this type of wealth and own a team, that has an incredible platform to change the world," Johnson said yesterday in an interview with CNN's Anderson Cooper on the Time Warner Inc. network's "AC360" show. "But he is doing it in a negative way."
Sterling, 80, who bought the Clippers in 1981, told a female friend on an audio tape posted on the website TMZ on April 25 that he didn't want her bringing black people to his team's games and that he didn't approve of her posting a photo with Johnson to Instagram.
Four days later, NBA Commissioner Adam Silver banned Sterling for life, fined him $2.5 million and said he'd urge the NBA's 29 other owners to force him to sell.
Sterling's Apology
That process continued yesterday when the NBA's advisory/finance committee met to discuss recent developments in the Sterling saga and decided to reconvene next week.
The players' union said that it would have boycotted the playoffs had Silver not acted so forcefully. Roger Mason Jr., a union vice president, said in an interview with Showtime's Jim Rome that the players, such as four-time league Most Valuable Player LeBron James, would strike if Sterling wasn't removed before next season.
"I was just in the locker room three or four days ago and LeBron and I talked about it," Mason said in the interview, which will air tonight. "He ain't playing if Sterling is still an owner."
Mason said on Twitter today that he may have misspoken when talking to Rome.
Mason's Tweet
"My bad if I was not clear," Mason said. "LBJ never said anything about boycotting. He's a friend and I would never want to imply something he didn't say."
Sterling apologized on "AC360" two nights ago for his remarks and said he is not a racist. Then he attacked Johnson's actions as a person and businessman.
"What kind of a guy goes to every city, he has sex with every girl, then he catches HIV and -- is that someone we want to respect and tell our kids about?" Sterling said on the program. "I think he should be ashamed of himself."
Sterling also said Johnson had done little for the black community in Los Angeles.
That led Silver to release a statement saying, "While Magic Johnson doesn't need me to, I feel compelled on behalf of the NBA family to apologize to him that he continues to be dragged into this situation and be degraded by such a malicious and personal attack."
Johnson said in yesterday's interview that he has helped create "thousands and thousands of jobs in urban America" and that his foundation has given more than $15 million to the fight against HIV and AIDS.
'Delusional' Comments
The former Lakers player said Sterling's assertions that his Clippers players still love him are "delusional" and that NBA owners will oust Sterling because "we can't have this type of action in our league, or in our society."
Several groups have said they would be interested in purchasing the Clippers, who trail 3-2 in their best-of-seven game NBA playoff series after a loss last night at the Oklahoma City Thunder.
Johnson is part of the ownership group led by Guggenheim Partners executives Mark Walter and Todd Boehly that bought the Dodgers in 2012 for a Major League Baseball-record $2.15 billion.
Johnson said in the AC360 interview that he will consult with Guggenheim executives about buying the Clippers if they are put up for sale, but denied coveting the team.
The 12-time NBA All-Star said he had turned down ownership offers with the Golden State Warriors and Detroit Pistons, and that the team he would truly want to own is the Lakers -- who share the Staples Center as a home arena with the Clippers.
"Now, what I want -- really would want, to do is own the Lakers," Johnson said. "If I was going to trick somebody, deceive somebody, be dishonest to somebody, steal somebody's franchise, it is going to be the Los Angeles Lakers."