S&P 500 Pension Deficit Widens From Six-Year Low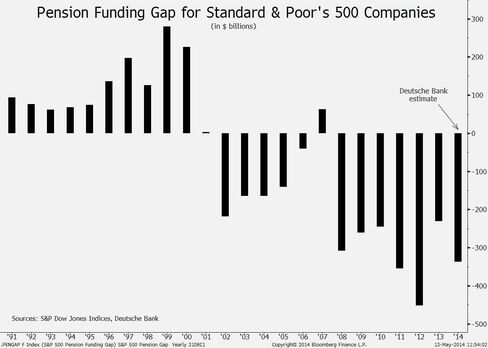 Falling bond yields and stagnant stock prices have caused the narrowest U.S. pension-funding gap since 2007 to widen this year, according to David Bianco, chief U.S. equity strategist at Deutsche Bank AG.
The CHART OF THE DAY shows year-end differentials between pension assets and liabilities for companies in the Standard & Poor's 500 Index, which Bianco cited two days ago in a report. His estimate of the current funding status is included.
S&P 500 pension deficits swelled to $337 billion in May from $231 billion at the end of last year as returns failed to keep pace with increased liabilities, the report said. A drop in corporate bond yields and stock returns was responsible for the move, Bianco wrote.
The yield on Baa rated company debt fell 54 basis points for the year through last week, according to an index compiled by Moody's Investors Service. Each basis point is equivalent to 0.01 percentage point. The S&P 500 had a 2.4 percent return for the period, down from 15 percent at the same point last year.
Corporate yields would have to rise about 150 basis points or pension assets would have to return more than 20 percent annually to eliminate the funding deficit, Bianco wrote. He added that some combination of rising yields and higher returns would also work.
Increases will set the stage for pension-fund managers to pursue "immunization," or selling stocks to buy bonds, the New York-based strategist wrote. He expects S&P 500 funds to move $150 billion of assets this way in each of the next two years, which would reduce stocks to 30 percent of assets from last year's 48 percent.