Russian Slowdown to Shield Europe From Ukraine Gas Cuts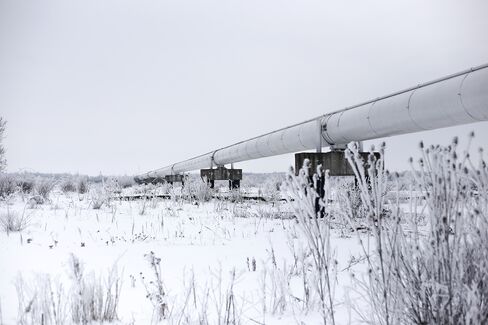 European natural gas traders are betting Russia's economy can't afford to lose more than $100 billion if the crisis in Ukraine escalates, reducing the odds of a long-lasting supply cut to the former Soviet nation.
Next-month gas in the U.K., Europe's biggest market, fell 19 percent since Russia invaded Crimea in February and tumbled last week to the lowest since 2010, while day-ahead fuel traded today near its cheapest since October 2011. An escalation of the conflict with Ukraine could cost Russia $115 billion on average in 2015, or more than 3 percent of its gross domestic product, according to IHS Inc.
Expanding sanctions from the U.S. and European Union threaten Russia's economy, which the International Monetary Fund says is entering a recession. The world's largest energy exporter is struggling to raise investments to stimulate growth as ties with the U.S. and the EU deteriorate, sparking capital flight and a selloff of ruble assets. Europe imports about 30 percent of its gas from Russia, half of which crosses Ukraine.
"The Russian economy is already suffering from the current developments," Ole Hansen, head of commodity strategy at Saxo Bank A/S in Copenhagen, said yesterday by e-mail. "At this stage, most people do not think that energy will become embroiled in the conflict as it raises the bar several notches in terms of risk. On that basis the reaction has been minimal."
U.K. gas fell to 44.7 pence a therm ($7.53 a million British thermal units) on May 7 on the ICE Futures Europe exchange in London, the lowest for a front-month contract since Sept. 28, 2010. The mildest winter in seven years left inventories more than half full, damping demand for injections before the winter heating season. The contract fell as much as 1.7 percent to 44.99 pence today. Day-ahead gas slid to as low as 45.25 pence a therm, broker data compiled by Bloomberg show.
Historical Volatility
The 60-day historical volatility, a measure of price swings, dropped yesterday even as OAO Gazprom billed Ukraine for 114 million cubic meters of gas a day in June, or about $1.66 billion, assuming a price of $485 a thousand cubic meters charged since April. Supplies will stop on June 3 unless Gazprom receives some payment by June 2, according to Sergei Kupriyanov, a spokesman for Gazprom. Previous disputes between the two nations disrupted flows to Europe in 2006 and 2009.
"We have seen this scenario played out a few times over recent years, threats and counter-threats, always getting to a resolution," said Stuart Jones, head of European gas at Tradition Financial Services Ltd. in London. "This time may be different with the military and high-level political involvement in the area. I believe the fundamental market bias remains bearish, however, with the current geopolitical tension in Ukraine, I would say most market players are running generally flat positions trading on short term horizons to capitalize on the back of intraday market rallies and falls."
90 Days
Europe can cope with a Ukrainian supply disruption for 90 days provided there are "reasonably high" inventories, cooperation between member states and normal flows of Russian gas through routes other than Ukraine, consultant Poeyry Oyj said in an e-mailed report last week. Storage in the EU was 55 percent full as of yesterday, the highest level for the time of year since at least 2007, according to Gas Infrastructure Europe, a lobby group in Brussels.
"The European gas market is currently in a comfortable position, with ample stocks and little heating-related demand," said Lysu Paez-Cortez, an analyst at Natixis SA in Paris. "We can't forget that the Nord Stream pipeline can now alleviate part of any gas supply disruption linked to a Ukrainian cut, unlike in 2009," she said, referring to a direct link under the Baltic Sea from Russia to Germany that opened in 2011.
Russia's economy could weaken further on tougher sanctions, falling investor confidence and a deteriorating political scenario, IHS said. The conflict could also cut European economic growth by 0.15 percent, it said yesterday by e-mail.
Capital Outflow
Russian capital outflow was $50.6 billion in the first quarter alone, compared with $63 billion last year. The IMF cut the country's economic forecast for the second time in less than a month on April 30, predicting full-year growth will slow to 0.2 percent from 1.3 percent last year and citing geopolitical risks and the need for tighter monetary policy.
European gas prices will probably keep falling over the next month or two barring any real disruptions to supplies, Milan Hedstrom, a Vienna-based self-employed gas trader who has been buying and selling commodities for 10 years, said yesterday by e-mail. Any disruption will be "short-lived."
Traded volumes in April on the U.K.'s National Balancing Point and on the Dutch Title Transfer Facility hub fell to the lowest level this year, according to Trayport Ltd., which compiles data on broker bilateral, broker-cleared and exchange-executed trades.
China Deal
Europe can cope with disruptions for "several weeks" and supply cuts are unlikely to be long-lasting, Saxo Bank's Hansen said. While the escalation of the situation in Ukraine has given the market "some recent cause for concern," the impact of the tensions on gas supply is viewed by Goldman Sachs Group Inc. as a "last resort," the bank said today in a report.
Russia's state-controlled Gazprom is preparing a supply contract with China to be signed when President Vladimir Putin visits the Asian nation next week, Deputy Energy Minister Anatoly Yanovsky said May 12.
"It's a lose-lose situation if Russia cuts gas supplies to Ukraine," Paez-Cortez said. "Even if Russia is about to sign a long-waited gas contract with China, in the short term it has no interest in cutting its supplies to Europe."
Before it's here, it's on the Bloomberg Terminal.
LEARN MORE