Quebec Crash Railway, Employees Charged With Negligence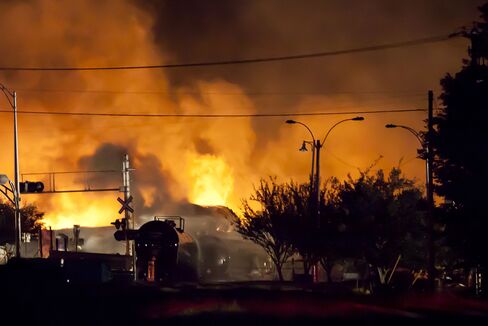 May 13 (Bloomberg) -- Montreal, Maine & Atlantic Railway Ltd. and three employees are facing criminal charges in the derailment and explosion of a train in Lac-Megantic last year, the Quebec prosecutor's office said.
"The evidence that was presented to the Crown prosecutor was sufficient to take action," Rene Verret, an official with the prosecutor's office, said today at a press conference in Lac-Megantic broadcast by CTV television. He declined to say if others will be charged. Prosecutors have asked for more details from provincial police, who have "completed" gathering evidence, Verret said.
The 47 counts of criminal negligence, one for every person who died in Canada's worst railway disaster in a century, carry a maximum sentence of life imprisonment, Verret said.
The United Steelworkers union questioned why three of its members had been charged while Ed Burkhardt, the chairman of Montreal, Maine & Atlantic, hasn't been.
"It's strange to see the transport minister applaud the arrest of three employees while the president of the company, Mr. Burkhardt, remains quietly at home in the U.S., while his company only gets a fine," the union's Quebec director, Daniel Roy, said in a statement. "No one seems concerned about the president of a company that made savings by scrimping on security."
The union also said it will help to pay for the legal fees incurred by its members.
Criminal prosecutions add to the legal and regulatory fallout from the disaster. The railroad, based in Hermon, Maine, filed for bankruptcy last year and its assets were sold to a unit of Fortress Investment Group LLC. for $14.3 million.
Tougher Rules
The tragedy has already resulted in tougher rules for transporting crude oil on rail lines in Canada and the U.S., a practice that has grown because of increases in North American oil production and a lack of pipeline infrastructure.
On July 6, 2013, a train operated by the closely held Montreal, Maine & Atlantic careened downhill into Lac-Megantic, jumped the tracks and exploded, destroying dozens of buildings, including a bar filled with patrons. The train had been left unattended for the night, parked on a hill outside the town of 6,000. Investigators with Canada's Transportation Safety Board found that the brakes hadn't been applied with enough force to stop the cars from rolling.
About 5.7 million liters (1.5 million gallons) of crude spilled from the damaged rail cars, Quebec's environment ministry said.
Court Appearance
Thomas Harding, the train's conductor, as well as Montreal, Maine & Atlantic employees Jean Demaitre and Richard Labrie were arrested yesterday, according to a statement from the prosecutor's office. The three men were released with conditions earlier today after a court appearance, Verret said.
"If laws have been broken we do expect people to be prosecuted to the full extent of the law," Transport Minister Lisa Raitt said today after delivering a speech in Saint John, New Brunswick.
To contact the reporters on this story: Frederic Tomesco in Montreal at tomesco@bloomberg.net; Greg Quinn in Ottawa at gquinn1@bloomberg.net
To contact the editors responsible for this story: Ed Dufner at edufner@bloomberg.net Chris Fournier, Molly Schuetz