Oracle Seeks to Revive $1.3 Billion SAP Copying Verdict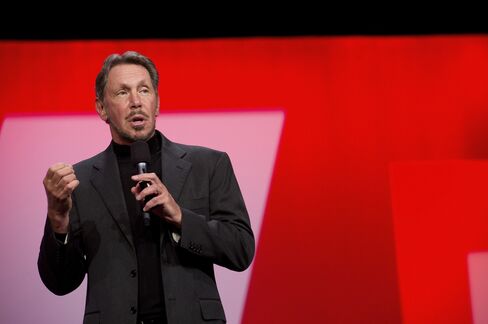 Oracle Corp. defended its methods to persuade a 2010 jury to award a record $1.3 billion in damages against SAP AG for copying software, while an appellate panel questioned whether they justified the verdict, later thrown out.
Oracle, the largest database software maker, today asked a three-judge panel of the U.S. Court of Appeals in San Francisco to reinstate the verdict or order a new trial in a seven-year-old feud over the downloading and copying of Oracle software by a now-defunct SAP subsidiary.
SAP expected as much as $900 million in revenue from the software maintenance unit that downloaded the Oracle code to steal customers and avoid paying for a license, Oracle attorney Kathleen Sullivan told the panel.
Revenue estimates don't "suggest anything about what the license might have cost," U.S. Circuit Judge Susan Graber said. "Even if it was objective, my concern is that it's evidence of something else."
The jury's $1.3 billion award, the largest ever for copyright infringement, was based on what a hypothetical license would have cost SAP. A federal judge said that since Oracle had never licensed the software, and showed no benchmarks of what a comparable license would cost, the verdict was based on speculation and had to be thrown out.
After an 11-day trial in Oakland, California, U.S. District Judge Phyllis Hamilton held that the award was grounded in "guesses" from experts and "self-serving" testimony from Oracle's executives at trial, including Chief Executive Officer Larry Ellison, about a fictional negotiation that would never have taken place between the two arch rivals.
Correct Verdict
The verdict was correct because it was based on estimates about the fair-market value of the software that was infringed and detailed financial information from both Oracle and SAP about estimated earnings from it, Sullivan said at the hearing.
"But all of that demonstrates what they could have earned from it, which is different from what is the price of a license," Graber said.
U.S. Circuit Judge William Fletcher questioned the reliability of both companies' estimates.
"This may be sort of pie in the sky, dreaming," he said. "There are a lot of variables in there that make it somewhat speculative."
In the trial, Redwood City, California-based Oracle alleged a U.S. unit of Walldorf, Germany-based SAP that marketed software maintenance services made hundreds of thousands of illegal downloads, and several thousand copies, of its software to steal customers and avoid paying for a license.
Ellison told the jury that SAP might have paid $4 billion to license Oracle's software and may have taken several thousand customers from its PeopleSoft unit through its access to Oracle copyrights.
Converted Customers
SAP's Texas-based TomorrowNow unit, which offered technical support and software fixes to about 3,000 customers of companies Oracle acquired, including PeopleSoft Inc., lured 358 of them, and only 86 of those bought products from SAP, SAP's lawyers said. A small portion of those customers converted to SAP software because of the infringement, the lawyers told the jury.
Hamilton, who presided over the trial, said evidence showed that Oracle had never granted a license for the downloaded software or showed evidence of a comparable license, so the verdict wasn't objective and had to be thrown out.
Greg Lanier, SAP's attorney, said today Hamilton got it right because no court has permitted the awarding of damages based on a hypothetical license without evidence of what similar licenses are worth.
Objective Evidence
"The question isn't just is there objective evidence per se, but objective evidence of what a willing buyer and willing seller would pay," he said.
The panel didn't say when it will rule.
The two companies entered into a "stipulated judgment" in August 2012, almost a year after the judge reduced the verdict to $272 million, which was the low end of an estimate of lost profits and SAP's gains on the infringement, made by Oracle's experts.
Under the agreement, SAP remains on the hook for at least $306 million, no matter what happens in the appeal. As part of the stipulation, the German company agreed to pay at least that much after all litigation, including appeals, are done.
The case is Oracle Corp. v. SAP AG, 12-16944, U.S. Court of Appeals for the Ninth Circuit (San Francisco).
Before it's here, it's on the Bloomberg Terminal.
LEARN MORE