New York Looks to New Haven for ID Card to Aid Immigrants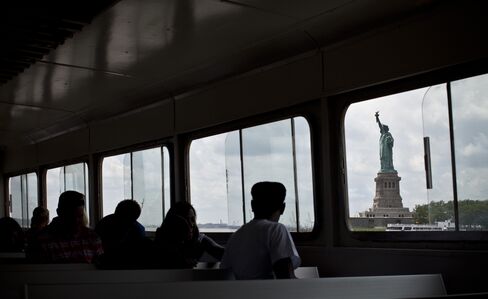 In New York City, 500,000 undocumented immigrants lack an official form of identification to open a bank account, visit a library or use a medical clinic.
That could be solved by creating an official photo-embedded municipal ID card that would display the holder's name, birth date, address and -- at the cardholder's option -- their self-designated gender, Mayor Bill de Blasio and most city council members say. The council plans to vote on the proposal within two months.
City officials are looking at similar programs in Los Angeles, San Francisco and New Haven, Connecticut, which created a resident card in 2007 in response to a series of street robberies of undocumented immigrants who carried cash because they lacked access to banks. The victims' status made them reluctant to report the crimes, said Officer David Hartman, a New Haven police spokesman.
"If you can't sign a lease, if you can't get a bank account, if you can't do the basics, if you can't even prove who you are, it doesn't feel like you truly belong," de Blasio, a 53-year-old Democrat, said in a speech last month. "It doesn't feel like you're respected and embraced. But these half-million New Yorkers are building this city alongside all of us every single day, and we will do better by them."
Still Ironing
Documents that would be acceptable to apply for a card include a U.S. or foreign passport, a domestic or foreign driver's license, a birth certificate or proof of foreign military service. An applicant would also have to show proof of city residence, such as a utility bill or bank statement.
"Obviously, with the implementation there are going to be immediate concerns regarding fraud, potential of fraud or any security measures, and that's being heard and those are being evaluated," said council Speaker Melissa Mark-Viverito, a Democrat who represents a mostly Latino district stretching across East Harlem and the South Bronx. "We just have to iron out the kinks."
In New Haven, 12,000 residents hold cards at a cost of $11 for adults and $6 for children, according to city spokesman Laurence Grotheer.
"The idea was to make new residents feel acclimated and part of the community," he said. "It seems to be running smoothly."
For New York politicians, supporting ID cards is a smart move because because Latino voters make up 15 percent to 20 percent of the electorate in a Democratic primary, said Jerry Skurnik, a New York-based demographic-political consultant.
'Liberal City'
"Hispanics who are citizens and voters are pro-immigration; they want their families, friends and countrymen to come here," Skurnik said in an interview. "And in a liberal city like New York, most people are pro-immigration anyway."
At an April 30 city council hearing, more than a dozen witnesses representing immigrants, seniors, civil liberties groups and transgender individuals praised the idea.
Since then, even some supporters have begun to raise questions about it. People who have cards might be stigmatized, they say, and those who don't might raise suspicions during police stops.
"You don't want the card to become a Scarlet Letter," said Emily Tucker, staff attorney for immigrant rights at the Brooklyn-based Center for Popular Democracy, which has advocated for it. "And you don't want it to become a reason for a cop to assume you're undocumented if you're carrying it, or that you're up to no good if you don't have it."
Police Tactics
To avoid creating a card that merely identifies undocumented immigrants, New Haven officials enabled cardholders to get discounts from merchants and reduced fees at parks and recreation facilities, and even the dump, Grotheer said.
One issue that has been divisive is the police department's use of stop-and-frisk tactics that led to hundreds of thousands of stops of mostly minority men across the city, which de Blasio opposed and pledged to restrict while campaigning for mayor last year.
A federal lawsuit led to a U.S. District Court judge's order to appoint a monitor to restrict the department's practices. Darius Charney, an attorney with the New York-based Center for Constitutional Rights, which sued the city over the policy, said that without proper training, the ID cards could create tension between police and young residents.
Civil Liberties
"My concern would be particularly in the police context, whether police would start asking people for identification and use this law and these new cards as a way to look for undocumented folks, or to create an encounter with people they have interest in, even though they have no right to ask for ID without having suspicion of a crime," Charney said.
In the past, the New York Civil Liberties Union opposed such ID programs because of concerns about how much information would be retained. Acting on a recommendation by the group, the city council bill prohibits government agencies from keeping or disclosing the information.
In New Haven, anti-immigration groups sued the city to obtain the names of cardholders, intending to identify illegal aliens for whom they could seek deportation. The city defended the suit successfully, Grotheer said.
Aside from immigrants, those supporting New York's bill include transgendered individuals who want the right to identify themselves as they see fit, regardless of what their birth certificate or driver's license may say.
Police Commissioner Bill Bratton said he supports the idea, though he questions how the city would ensure reliable identification when many immigrants lack documentation.
"It's kind of a Catch-22," said Stephen Davis, his deputy commissioner for public information. "If you're undocumented, how do you provide credible back-up to establish who you are? If you have the underlying documents, why would you need a municipal ID?"