Mercedes April Sales Growth Beats BMW's on S-Class Sedan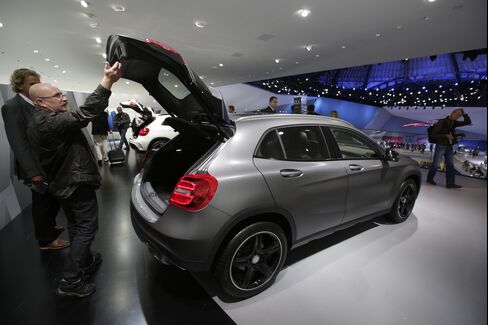 Mercedes-Benz narrowed the sales gap with larger luxury-auto competitors Bayerische Motoren Werke AG and Audi AG last month as customers sought the company's top-of-the-line S-Class and up-market E-Class sedans.
Deliveries at the Mercedes brand jumped 14 percent from a year earlier in April, beating 12 percent growth at Audi and a 7.8 percent gain that the BMW nameplate posted today. Demand surged 60 percent for the S-Class line and 26 percent for the E-Class and related models.
Daimler AG, the Stuttgart, Germany-based owner of Mercedes, and Volkswagen AG's Audi have both vowed to take the global premium-car sales crown from Munich-based BMW by the end of the decade. The three manufacturers are forecasting at least a fourth year of record vehicle sales for 2014 as demand revives in their home market of Europe. BMW, which took first place from Mercedes in 2005, plans annual group sales exceeding 2 million vehicles for the first time this year.
"Mercedes has been in the process of catching up over several months now and is growing stronger than the competition, because they are offering more new products," said Juergen Pieper, a Frankfurt-based analyst at Bankhaus Metzler. "They have the opportunity to outpace Audi this year."
Stock Rises
Daimler rose as much as 2.2 percent and was trading up 1.9 percent at 66.51 euros at 12:33 p.m. in Frankfurt. BMW gained 0.8 percent to 89.39 euros. VW, which said separately today that it has enough shareholder backing to buy full control of truckmaker Scania AB, increased 0.3 percent to 192.30 euros.
Mercedes sold almost 133,100 vehicles in April, while four-month deliveries climbed 15 percent to 507,400, the company said on May 6. Demand for compact models, including the new GLA sport-utility vehicle that went on sale in Europe in March, jumped 20 percent. Sales in the U.S., Mercedes-Benz's biggest market, rose 9.5 percent while Chinese deliveries soared 38 percent.
Demand is likely to be boosted further when a C-Class sedan variant with a longer wheelbase enters showrooms in China in September and a wagon version of the mid-sized vehicle makes its debut later this year. Daimler will also renew the Smart city car lineup with a new two-seat model and an additional four-seat version. Smart's sales fell 4 percent in April, holding back group delivery growth in the month to 13 percent.
Zetsche's Strategy
Daimler's Chief Executive Officer Dieter Zetsche plans 30 new Mercedes models by the end of the decade, including a dozen with no predecessor. The brand will add an SUV coupe based on its M-Class next year.
Mercedes debuted the new S-Class in May 2013 and announced the number of variants would double to six. A coupe, presented at the Geneva auto show in March and scheduled for first deliveries in September, will add to the current lineup of the standard sedan and an extended-wheelbase version. Daimler has plans eventually to offer a stretched model as well.
The S-Class cars compete with Audi's A8, which was overhauled in November, and BMW's 7-Series, which was last refreshed in 2012 and is up for renewal at the end of next year.
"The S-Class's main impact is not so much on the sales volume," said Frank Schwope, a Hanover-based analyst with NordLB. "But the margin is much higher, as many customers cram the vehicle with options and extras."
BMW's Models
BMW's April sales amounted to 140,800 cars, with four-month deliveries gaining 11 percent to 569,100, the company said today. Four-month Chinese sales jumped 25 percent. Gains of 23 percent in Brazil and 14 percent in Mexico contributed to a 2.2 percent increase in the Americas. The company introduced the van-like 2-Series compact in March, and started rolling out the midsize 4-Series line in October.
Audi's April sales rose 12 percent to 149,100 vehicles on demand for the Q3 SUV and A3 compact cars, the manufacturer said on May 8. Deliveries jumped 17 percent in China and 19 percent in the U.S.
BMW outsold Mercedes by 61,700 autos in the four months through April while Audi was 54,500 vehicles ahead.
Before it's here, it's on the Bloomberg Terminal.
LEARN MORE