CEO Says Canada Hasn't Asked Magna to End Avtotor Ties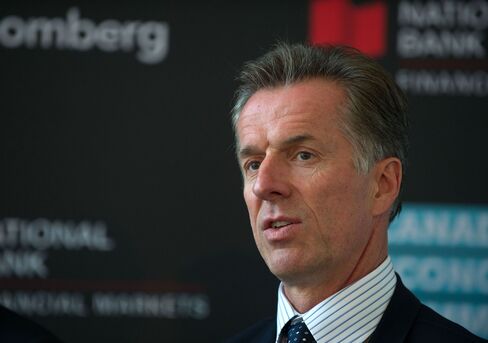 Magna International Inc. Chief Executive Officer Donald Walker said he hasn't been asked to end a Russian joint venture amid mounting tension over Ukraine even as an executive from partner Avtotor Holding Ltd. cited pressure from Canada to do so.
"I haven't heard anything and nobody that I've contacted has heard anything either, so I don't know where that's coming from," Walker, of Aurora, Ontario-based Magna, told reporters yesterday at the Bloomberg Canada Economic Summit in Toronto.
Avtotor Chairman Vladimir Scherbakov said earlier at a meeting with Russian Prime Minister Dmitry Medvedev that Canada is urging Magna, North America's largest auto-parts maker, to withdraw its contract with his company. The partnership was established in November 2012 in Kaliningrad, Russia, to produce automotive components for vehicle assembly.
Canada, like the U.S and the European Union, has imposed sanctions on Russia and accused President Vladimir Putin of stoking unrest in Ukraine in the run-up to a May 25 presidential election. Magna hasn't been affected by the sanctions, Walker said.
"We have a number of facilities in Russia and we've always had good relations," Walker said.
When Magna announced the joint venture, the companies said it had the potential to produce as many as 250,000 vehicles a year by 2018. Magna had six manufacturing sites in Russia as of Dec. 31, according to its website. Last year Magna got about 49 percent of its $34.8 billion in total revenue from outside of North America.
"Basically they are a contract manufacturer for vehicle manufacturers and we have said that we'll cooperate with them and build in a supply park and help them to develop," Walker said.
Magna fell 0.8 percent to $99.34 at the close in New York. The shares have gained 21 percent this year.
Before it's here, it's on the Bloomberg Terminal.
LEARN MORE