Lockhart Says Fed Weighs Role of Funds Rate Amid QE Exit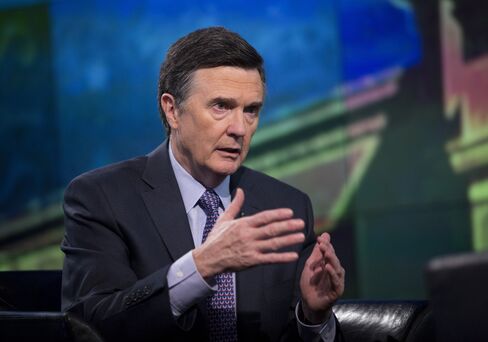 Federal Reserve Bank of Atlanta President Dennis Lockhart said the U.S. central bank is weighing the future role of its main interest rate as it unwinds an unprecedented stimulus program amid economic growth.
Lockhart told reporters in the Saudi Arabian capital, Riyadh, that the Federal Reserve is testing a "variety of policy tools." The federal funds rate "has a role but it may or may not be as dominant as it was in the past," he said today.
Policy makers responded to the global financial crisis by reducing the Fed's main interest rate to near zero in December 2008 and beginning a program of asset purchases known as quantitative easing. Lockhart, who doesn't vote on monetary policy this year, said in Dubai May 11 that he expects the U.S. economy to expand 3 percent this year, possibly paving the way for the first interest-rate increase in the second half of 2015.
The long-term policy tools that the Fed is testing include a reverse-repurchase program as well as "term deposits, where we would neutralize excess reserves by paying a little bit more to a bank to effectively sideline their reserves for a period of time," Lockhart said.
In a reverse repo, the central bank lends securities for a set period, temporarily draining cash from the banking system. At maturity, the securities are returned to the Fed, and the cash to its counterparties.
'Dramatic Change'
Lockhart reiterated his view that the central bank is likely to end its bond-buying program this year. "I often get the question, 'What would it take take to either pause that, or even reverse it and start asset purchases again,'" he said. "And my answer, my personal view: I think it would take a rather dramatic change in the economic course of the United States."
The Federal Open Market Committee on April 30 announced a reduction in monthly bond buying to $45 billion, down from $85 billion when the Fed started trimming purchases in December.
Fed Chair Janet Yellen said May 7 that the central bank will probably end bond buying in the fall if the labor market continues to improve. U.S. payrolls rose last month by 288,000 in the biggest gain in two years, and the 6.3 percent jobless rate was the lowest since September 2008, according to a May 2 Labor Department report.
"People in the construction business tell me they have difficulties finding qualified tradesmen and tradeswomen in certain specialties within construction," Lockhart said. "We have a very strong energy industry. It is expected that the energy industry, both oil and gas, will employ many, many more people as it continues to develop."
A former Georgetown University professor, Lockhart has led the Atlanta Fed since 2007. His district includes Alabama, Florida, Georgia, and portions of Louisiana, Mississippi, and Tennessee.