EU Campaign Halts in Spain as Rajoy Mourns Murdered Official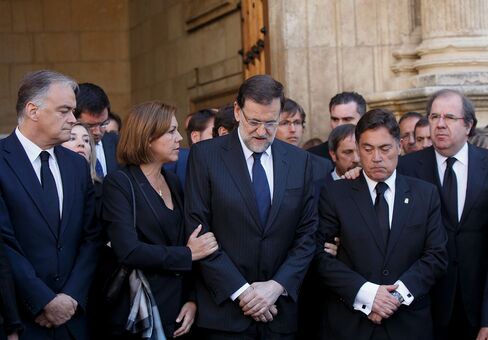 The European Union election campaign was suspended in Spain as Prime Minister Mariano Rajoy traveled to the northern city of Leon, after a local politician from his People's Party was shot and killed.
The ruling PP and the Socialist opposition canceled planned events yesterday and today, postponing until May 15 a debate between their leading candidates after the death of Isabel Carrasco, the president of the province and head of the local branch of the PP. Both parties, the country's largest, sent officials to the funeral ceremonies.
A woman and her daughter, a former employee of the province, were arrested after the shooting in Leon yesterday, which may have been a personal revenge attack, according to the Interior Ministry.
Carrasco's death interrupted the EU parliamentary election campaign in Spain, the euro region's fourth-largest economy, as a poll this week showed Rajoy's PP is leading Spain's Socialists. In power since 2011, Rajoy's PP also faces national and local elections next year after implementing the deepest austerity measures in the nation's democratic history amid a 25 percent jobless rate.
'Cruel, Pointless'
"It's a cruel, pointless, absurd act," Rajoy told reporters as he joined mourners in Leon. "Isabel was a woman I knew well for many years. She dedicated her life to politics."
The killing took place after the daughter was notified this week by the province, which fired her in 2011, that she had to repay her former employer some money, a spokeswoman for the Interior Ministry, who asked not to be named in line with government policy, said in a telephone interview today. Yesterday, the ministry had initially said that the woman was fired this week.
Interior Minister Jorge Fernandez Diaz has asked the police to investigate whether some messages about the killing posted on social networks could be considered criminal acts, another spokesman for the ministry said.
Carrasco, born in 1955, also was an elected member of the Leon city town council, according to her profile on the municipality's website.
Before it's here, it's on the Bloomberg Terminal.
LEARN MORE